Products & Technology
---
High Tensile Strength Steel Plate
           for Construction Machinery
Available in a wide range of strength grades and sizes
This lineup of high-tensile strength steel plate spans a tensile strength range from 590 to 980 N/mm2. JFE also offers two high-yield strength plate products, HYD960LE and HYD1100LE, for applications requiring even greater strength.
The chemical composition of these products was carefully designed to ensure excellent weldability. This steel plate is guaranteed to maintain its toughness at low temperatures, making it suitable for construction machinery that needs to operate under extreme weather conditions.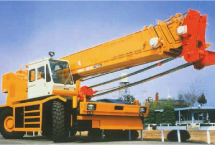 Features
High-tensile strength steel plate lineup ranging in tensile strength from 590 to 980 N/mm2
Available in very high thicknesses, over 100 mm
HYD960LE and HYD1100LE high-yield steel is also offered for applications requiring exceptionally high strength
Excellent weldability
Guaranteed toughness at low temperatures ‒40°C
Examples of Product Characteristics
Results of y-groove weld cracking test on JFE-HITEN 780LE
No low-temperature cracking occurred, even at a preheat temperature of 25°C. The ability to reduce preheat temperature enables greater work efficiency.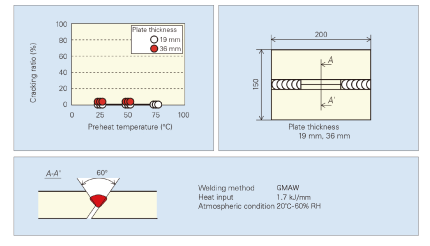 Table of Grades
Type/grade
Thickness
(mm)
Ceq.
(%)
Tensile test
Charpy impact test
Heat
treat
ment
Yield strength
(MPa)
t(mm)
Tenslie strength
(MPa)
Test temperatrue
(℃)
t(mm)
Energy
(J)
Standard
Series
JFE-HITEN 590SA
6~40
≦0.45
≧450
590~710
―
―
CR
or
TMCP
JFE-HITEN 590SB
-10(t>12)
≧47
JFE-HITEN 590SL
6~32
≦0.46
≧450
590~710

-40

(6≦t≦36)
-20(t>36)
≧27
32.1~50
≧430
570~705
JFE-HITEN 690S
6~25
≦0.50
≧550
690~830
-10(t>12)
≧47
JFE-HITEN 780S
6~50
≦0.53
≧685(t≦75)
≧665(t>75)
780~930
-5(12<t≦20)
-15(20<t≦32)
-20(32<t)
≧35
QT
50.1~100
≦0.61
100.1~160
≦0.70
160.1~203.2
≦0.75
≧610
700~850

-40

JFE-HITEN 980S
6~50
≦0.65
≧885
950~1130
-10(12<t≦20)
-25(20<t≦32)
-30(32<t)
≧35
QT
LE
(high toughne
ss series)
JFE-HITEN 780LE
6~19
≦0.40*
≧685
780~930

-40

≧40
QT
or
TMCP
19.1~32
≦0.43*
32.1~40
≦0.47*
(Not yet officially
standardized but
can be ordered.)
40.1~70
≦0.65*
≧685(t≦75)
≧665(t>75)
780~930
-40
≧40
QT
70.1~160
≦0.73*
160.1~203.2
≦0.78*
≧610
700~850
≧35
JFE-HITEN 980LE
(Not yet officially
standardized but
can be ordered.)
6~50
≦0.65*
≧900
940~1100
-40
≧35
QT
50.1~100
≦0.80*
≧830
880~1080
JFE-HYD 960LE
6~32
≦0.64*
≧960
980~1150

-40

≧27
TMCP
or
QT
32.1~50.8
≦0.70*
50.9~63.5
≧930
950~1120
JFE-HYD 1100LE
12~32
≦0.70*
≧1100
1180~1500

-40

≧27
※): C+Mn/6+(Cu+Ni)/15+(Cr+Mo+V)/5
other case: C+Si/24+Mn/6+Ni/40+Cr/5+Mo/4+V/14
CR: Control rolling
TMCP: Thermo-Mechanical Control Process
QT: Quenching-Tempering
Download Catalogs
---