High-strength, thick-walled electric resistance welded steel pipe


API X80-Grade Conductor Casing
World's first X80-grade(*1)one-inch (25.4 mm)-thick electric resistance welded steel pipe, developed using original forming technology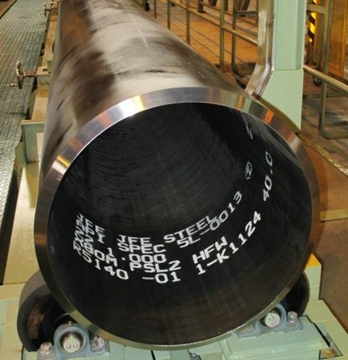 With the advancement of the gas and oil exploration industry, offshore drilling work is now being done at greater and greater depths. As a result of this, there is a growing need for high-strength thick-walled materials that can resist higher external pressures, in order to support the well casings inside the well. Since it is technically difficult to form electric resistance welded (ERW) steel pipe at high precision with high-strength, thick-walled material, conventional UOE steel pipe, or seamless steel pipe, have typically been used for conductor casings(*2)in these kinds of severe environments. JFE Steel has used its own unique forming technology, based on its wealth of expertise in high-strength, thick-walled materials, to develop the world's first one-inch-thick X80-grade ERW steel pipe and to establish a streamlined manufacturing system for its production.
(*1) API X80-grade: Strength grade conforming to the standards of the American Petroleum Institute (API). X80-grade refers to a yield strength of 555 MPa.
(*2) Conductor casing: A steel pipe that is placed into the ground (or seabed) at the initial stage of drilling an oil or natural gas well,
as a strong external casing to protect well casings against external pressure.
Features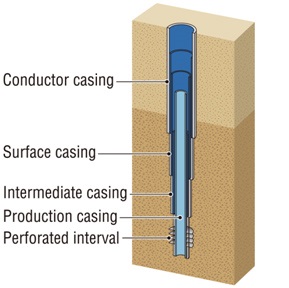 Conductor casing and line pipe for deep seabed environments of high external pressure
Applications
Conductor casing and line pipe for deep seabed environments of high external pressure
■Compatible standards
API 5L (44th)、Annex J Offshore