News Release
JFE Steel Rolls Out Mixed-reality Training Simulator in Fukuyama District —Will facilitate safe and effective skills transfer to young employees—

JFE Steel Corporation
JFE Steel Rolls Out Mixed-reality Training Simulator in Fukuyama District
—Will facilitate safe and effective skills transfer to young employees—
JFE Steel Corporation announced today that it has deployed a training simulator incorporating mixed-reality (MR) technology1 in the Fukuyama facility of its West Japan Works. The simulator, which is already operating, enables trainees to practice two basic procedures: making volume adjustments when pouring molten steel2 into a continuous casting machine and tilting a converter to pour molten steel into a separate vessel.
The molten-steel pouring simulator, like one installed at the company's Kurashiki facility in 2020, replicates abnormalities, etc. for comprehensive training. The converter-tilting simulator replicates unexpected changes in operating conditions as well as various abnormalities, such as power outages, providing a simulated environment that closely approximates the actual factory floor.
In the future, JFE Steel will also deploy a converter-tilting simulator in Kurashiki as well as other MR training simulators at all steelworks and manufacturing sites to facilitate the transfer of skills to young workers. JFE Steel is implementing such measures to deal with its shrinking workforce of veteran personnel who are retiring, like at many companies in Japan, at the same time as Japan's overall population continues to contract due to falling birthrates.
JFE Steel often needs to provide on-the-job training so that young workers can master certain skills through experience, such as working with molten materials at high temperatures, but this can involve high levels of operational and safety risk. In response, JFE Steel is developing and installing MR simulators to create training environments in which trainees can realistically practice operating equipment in computer-generated virtual factories rather than operating actual equipment.
JFE Steel is actively adopting digital technologies under a digital transformation (DX) strategy aimed at realizing more productive and stable operations. Initiatives have included opening the new JFE Digital Transformation Center (JDXC) and deploying cyber-physical systems (CPS) at steelmaking plants and many other company locations. JFE Steel plans to address a wide range of issues through DX, including skills transfer and workstyle reforms, and thereby contribute to a more sustainable world.
1 Virtual reality (VR) involves the use of computer-generated virtual spaces whereas augmented reality (AR) adds information to real-world environments for augmented real-world experiences. MR, however, merges real and virtual worlds in environments that combine physical and virtual elements in real time.
2 Adjusting the amount of composition-modified molten steel poured into a continuous casting machine
| | |
| --- | --- |
| New converter tilting simulator | Training session in progress |
Trainee's view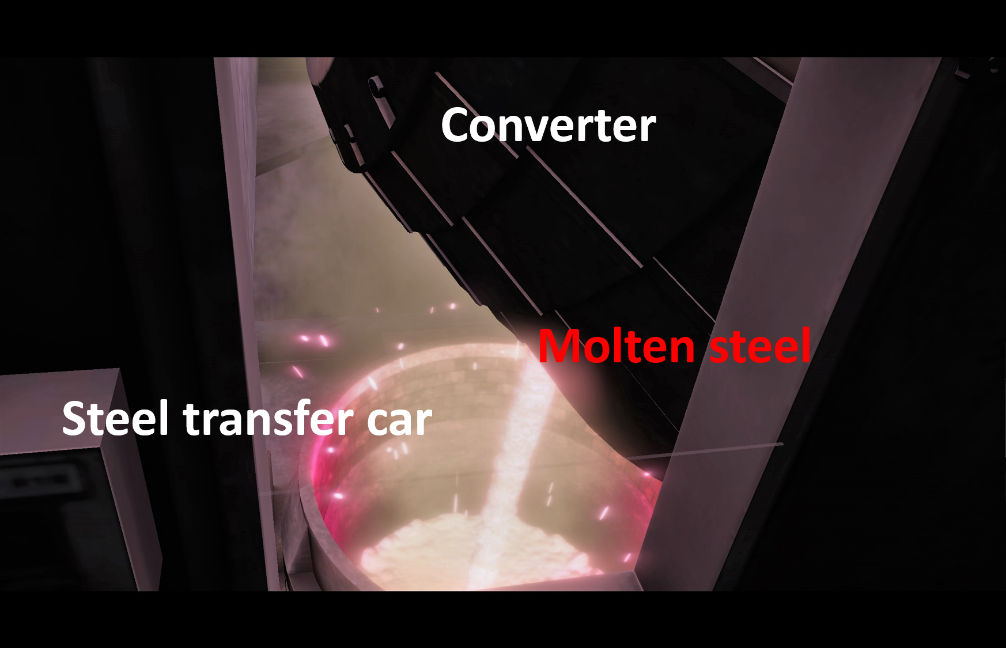 Related URL:
JFE Steel Rolls Out Mixed-reality Training Simulator
—Will facilitate safe and effective skills transfer to young employees—
About JFE Steel Corporation
JFE Steel Corporation, one of the world's leading integrated steel producers, was established through the consolidation of NKK Corporation and Kawasaki Steel Corporation in 2003. The company operates several steelworks in Japan and numerous branch offices and affiliates throughout the world. JFE Steel leverages world-class technologies and know-how to produce a wide range of products based on its "Only One, Number One" strategy of focusing on unique and best-in-class products. The company reported consolidated sales of 2,255 billion yen and consolidated crude steel output of 23.96 million tons in the fiscal year ended March 2021.
# # #
For more information about this release, please contact: