News Release
JFE Steel Launches Center for In-house Digital-transformation Initiatives

JFE Steel Corporation
JFE Steel Launches Center for In-house Digital-transformation Initiatives
JFE Steel Corporation announces today the opening of its JFE Digital Transformation Center (JDXC™) as a hub for company-wide digital-transformation (DX) initiatives incorporating data science and the latest ICT. The JDXC™, the first facility of its kind in the Japanese steel industry, is equipped to integrate operational data from throughout the company's steelworks and manufacturing operations.
Going forward, the JDXC™ will:
| | |
| --- | --- |
| ・ | Drive productivity enhancements and cost reductions through the integrated use of data, including sharing among facilities and linking upstream and downstream processes. |
| ・ | Advance the sharing and standardization of cyber-physical systems (CPSs)1 in manufacturing processes to enhance operational technologies overall. |
| ・ | Nurture in-house data scientists through problem solving and the sharing of knowledge and experiences. |
JFE Steel's competitiveness is underpinned by some 80 years of expertise and data on integrated steelworks. This includes data on the manufacture and quality-control of steel products, the predictive management of equipment/operational faults, and more, strengths that are already reflected in the company's IT strategies. In order to further enhance the company's analysis and modelling2 of data from dispersed facilities, JFE Steel is now building a framework to make data stores from each facility centrally available in the company's internal cloud. The JDXC™, which is located at the company's head office, will facilitate this highly integrated use of data stores, ultimately to strengthen the company's global competitiveness.
So far, JFE Steel has achieved a range of operational improvements through DX initiatives, such as deployment of data linkages across all blast furnaces, the conversion to standardized CPSs, and the use of data science. Going forward, the JDXC™ will act as a hub for rolling out these enhancements across other major manufacturing processes. It will also pursue innovative productivity enhancements and extra-stable operations based on sophisticated DX, including the remote monitoring of CPSs and manufacturing facilities. In addition, it will support the implementation of COVID-19 countermeasures such as remote work.
One of JFE Steel's key strategies is the adoption of advanced ICT in manufacturing processes, for which the company set up the Data Science Project Department in October 2017 and the Cyber-Physical System R&D Department in April 2019. By deploying data science and other technologies, JFE Steel expects to realize further energy savings, CO2 emissions reductions, and enhancements in cost competitiveness and quality, and thereby contribute to a more sustainable world.
1 System that creates value by collecting vast amounts of sensor data (big data) on physical systems (actual equipment and products) for diverse analysis in cyberspace, the results of which are fed back into physical systems in real time.
2 Data science (use of data to acquire new insights and improve outcomes) for visualizing and analyzing unknown/hidden phenomena and creating predictive models
JDXC™ entrance and interior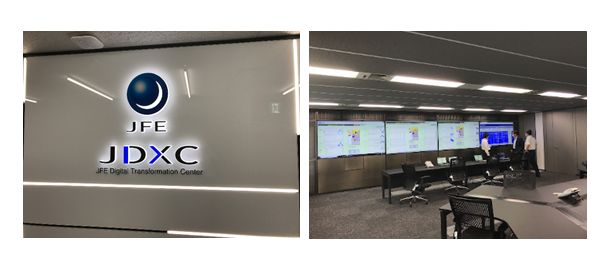 Overview of JDXC™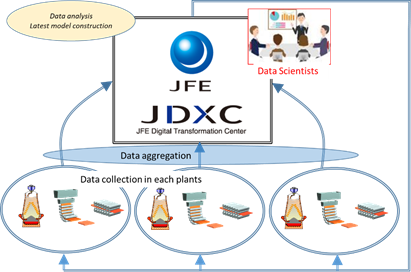 Related URLs
JFE Steel Introducing Data Science Technology at All Steelworks Blast Furnaces
— Conversion to cyber-physical systems expected to enhance productivity —
JDXC™ is a registered trademark of JFE Steel Corporation.
About JFE Steel Corporation
JFE Steel Corporation, one of the world's leading integrated steel producers, was established through the consolidation of NKK Corporation and Kawasaki Steel Corporation in 2003. The company operates several steelworks in Japan and numerous branch offices and affiliates throughout the world. JFE Steel leverages world-class technologies and know-how to produce a wide range of products based on its "Only One, Number One" strategy of focusing on unique and best-in-class products. The company reported consolidated sales of 3,900 billion yen in 2018 and consolidated crude steel output of 27.88 million tons in the fiscal year ended March 2019.
# # #
For more information about this release, please contact: