News Release
JFE Steel Introducing Data Science Technology at All Steelworks Blast Furnaces— Conversion to cyber-physical systems expected to enhance productivity —

JFE Steel Corporation
JFE Steel Introducing Data Science Technology at All Steelworks Blast Furnaces
— Conversion to cyber-physical systems expected to enhance productivity —
JFE Steel Corporation announced today that it is introducing advanced data science technology at all eight blast furnaces of the company's steelworks in Japan to enable fast detection of anomalies and prediction of furnace-heat conditions up to 12 hours in advance. By introducing the data science technology, JFE Steel expects to raise the operational efficiency of its blast furnaces for higher stability and remarkably improved productivity.
It is extremely important that blast furnaces, which remove oxygen in iron ore for the production of iron, operate stably and with high efficiency due to the significant impact on costs. Attaining this level of operation is challenging, however, because it is not possible to directly view the inside of the furnace and because operating conditions can change moment by moment due to the influence of properties in the raw materials used. Until now, achieving stable operations has depended greatly on the experience and operational judgement of skilled operators, as well as the use of conventional technologies.
In response, JFE Steel is now deploying data science technology to convert its eight blast furnaces in Japan to cyber-physical systems (CPS) that are managed with computer-based algorithms. The conversion involves using artificial intelligence to analyze sensor data collected from the physical manufacturing process and then create a virtual (cyber) process in digital space using proprietary techniques, after which the two processes are linked in real time.
The virtual process enables the visualization of the blast furnace's internal state for the prediction of future conditions. In addition, the manufacturing process can be adjusted based on monitored data and the prediction of anomalies to achieve extra-stable operations. Also, bottlenecks in the manufacturing process can be visualized to help upgrade productivity. Furthermore, CPS conversion is expected to lead to increased innovation by enabling virtual testing and facilitate technical advancement and workstyle reforms through the computerization of knowledge and expertise.
JFE Steel, in addition to converting its blast furnaces to CPS, has begun deploying a system that derives the optimal operations to maximize the stability of production based on predicted results and recommends operators to carry out. In addition, during the current fiscal year ending in March 2020, the company hopes to connect its eight blast furnaces via a data highway for the collection of diverse operational data to help standardize and automate both centralized monitoring and operations, thereby allowing the company to further upgrade its blast furnace operations companywide.
In the longer term, JFE Steel plans to extend CPS conversion to other processes, aiming to realize innovative productivity and more stable operations across all steel manufacturing operations.
JFE Steel believes that the deployment of data science technology is essential to its effort to be a winning player in the highly competitive global steel industry. More broadly, the company has taken integrated and systematic steps to adopt advanced IT technology, a key strategy in the firm's ongoing Sixth Medium-term Business Plan, by launching the Data Science Project Department in October 2017 and the Cyber Physical System R&D Department in April 2019. Moving forward, JFE Steel will continue making coordinated efforts on a companywide basis to further adopt and develop advanced technologies, including CPS.
Blast Furnace CPS Concept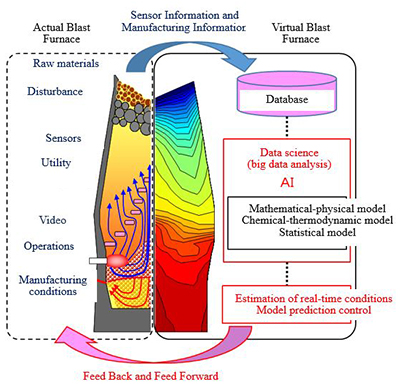 About JFE Steel Corporation
JFE Steel Corporation, one of the world's leading integrated steel producers, was established through the consolidation of NKK Corporation and Kawasaki Steel Corporation in 2003. The company operates several steelworks in Japan and numerous branch offices and affiliates throughout the world. JFE Steel leverages world-class technologies and know-how to produce a wide range of products based on its "Only One, Number One" strategy of focusing on unique and best-in-class products. The company reported consolidated sales of 3,900 billion yen in 2018 and consolidated crude steel output of 27.88 million tons in the fiscal year ended March 2019.
# # #
For more information about this release, please contact: