News Release
JFE Steel Launches System to Identify Fraudulent Inspection Certificates

JFE Steel Corporation
JFE Steel Launches System to Identify Fraudulent Inspection Certificates
Tokyo – JFE Steel Corporation announced today that it has launched a system to help identify inaccurate or forged inspection certificates (ICs), the documents a steelmaker issues when it ships steel. The system, the first of its kind in the Japanese steel industry, enables customers to use a smartphone to convert QR codes® on an IC into a display showing the registered properties of the steel product that the IC was issued for. The information stored in the QR codes includes registered buyers, product sizes and test results. Any discrepancies between the information printed on the IC and that contained in the QR codes could indicate that the IC has been falsified.
JFE Steel provides customers with ICs printed on forge-proof paper developed by the company. The paper contains watermarks, thermochromic printing, hidden codes, etc. to help prevent forgeries and enable customers to confirm an IC's authenticity. QR codes make it more difficult to falsify ICs, while making it easier for customers to identify forgeries. If any discrepancy is found, the customer can send an immediate inquiry to JFE Steel from the smartphone's screen. All ICs for steel pipes manufactured at JFE Steel's Chita Works in Japan since March this year bear a QR code. JFE Steel is now considering printing QR codes on ICs for other steel products.
JFE Steel has recently received a number of inquiries from customers who received ICs when purchasing products supposedly made by JFE Steel, including products that had been resold, sometimes more than once. Most of the complaints have come from customers outside Japan. Falsified ICs can contain forged company names, standards conformance information, product sizes and test results. In some cases, ICs are completely falsified.
Going forward, JFE Steel will make every effort to protect customers from fraud resulting from falsified ICs.
*QR Code is a registered trademark of Denso Wave Incorporated.
System to Identify Fraudulent Inspection Certificates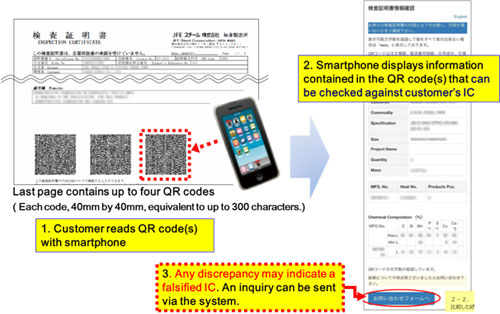 For more information, please visit the website below:
https://www.jfe-steel.co.jp/en/millsheet.html
About JFE Steel
JFE Steel Corporation, one of the world's leading integrated steel producers, was established through the consolidation of NKK Corporation and Kawasaki Steel Corporation in 2003. The company operates several steelworks in Japan and numerous branch offices and affiliates throughout the world. JFE Steel leverages world-class technologies and know-how to produce a wide range of products based on its "Only One, Number One" strategy of focusing on unique and best-in-class products. The company reported consolidated sales of 2,445 billion yen and consolidated crude steel output of 29.75 million tons in the fiscal year ended March 2016. For more information, please visit https://www.jfe-steel.co.jp/en.
# # #
For further information, please contact: