News Release
JFE Steel Launches Facility to Test Steel Materials for Liquid Ammonia Tanks

JFE Steel Corporation
JFE Steel Launches Facility to Test Steel Materials for Liquid Ammonia Tanks
JFE Steel Corporation announced that a new test facility for evaluating the risk of stress corrosion cracking (SCC1) in steel materials exposed to liquid ammonia began operating at the company's Steel Research Laboratory (Kurashiki District) in late October 2023. The facility can evaluate the SCC susceptibilities of specimens in liquid ammonia (Fig. 1) and perform various electrochemical measurements.
JFE Steel will use the facility to develop steel materials for ammonia tanks, and also to address the broader societal need for standardization of testing methods and materials in this field.
Japan's green-growth strategy has considered ammonia, which does not produce CO2 when combusted, as a promising fuel for thermal power generation and ships, based on which JFE Steel is actively supporting the establishment of ammonia supply chain.
One of the challenges, however, is the need for extra-large storage tanks made of high-strength steel. Ammonia liquefied for storage and transportation can cause SCC in steel materials, and in general, the higher the strength of carbon steel, the higher the probability of SCC in the presence of liquid ammonia. Therefore, the risk must be rigorously evaluated.
Since liquid ammonia is a toxic and flammable liquefied gas that requires special storage, handling and shipping equipment, JFE Steel's new building (Fig. 2) and test equipment (Fig. 3) comply with all relevant legal and regulatory requirements under Japan's High Pressure Gas Safety Act.
JFE Group Environmental Vision for 2050 identifies the need to address climate-change issues as a top priority for JFE, based on which JFE Steel is making concerted efforts to respond to such challenges. Going forward, the company will continue to pursue initiatives to expand green energy and thereby contribute to global decarbonization.
Figure 1: Example of stress corrosion cracking that occurred during test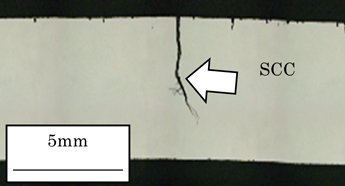 Figure 2: Building for testing stress corrosion cracking that occurs in liquid ammonia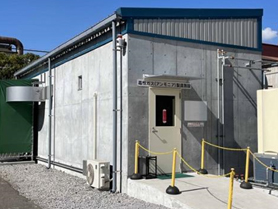 Figure 3: Overview of test equipment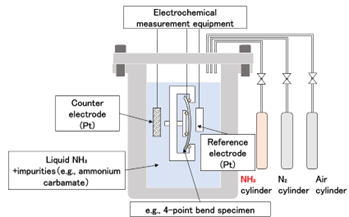 ---
1 Crack formation in metal materials subjected to tensile stress in a corrosive environment
About JFE Steel Corporation
JFE Steel Corporation, one of the world's leading integrated steel producers, was established through the consolidation of NKK Corporation and Kawasaki Steel Corporation in 2003. The company operates several steelworks in Japan and numerous branch offices and affiliates throughout the world. JFE Steel leverages world-class technologies and know-how to produce a wide range of products based on its "Only One, Number One" strategy of focusing on unique and best-in-class products. The company reported consolidated sales of 2,255 billion yen and consolidated crude steel output of 23.96 million tons in the fiscal year ended March 2021.
# # #
For more information about this release, please contact: