News Release
JFE Steel and Tohoku Univ. Establish Collaborative Research Lab for Green Steel

JFE Steel Corporation
Tohoku University
JFE Steel and Tohoku Univ. Establish Collaborative Research Lab for Green Steel
JFE Steel Corporation and Tohoku University jointly announced today that they established the Collaborative Research Laboratory for Green Steel on February 1 to research eco-friendly steel materials and production methods for the carbon-neutral era. The lab will provide an environment for interdisciplinary industrial-academic collaboration between industry engineers and university researchers from February 2022 to March 2025.
Collaborative research at the lab will be targeted at resolving issues to realize low-carbon steelmaking processes through multifaceted approaches. JFE Steel will utilize Tohoku University's latest numerical analysis technologies in planned experiments.
Efforts also will be focused on identifying new development themes, notably the development of new materials and steelmaking processes. In addition, the lab will nurture specialists for next-generation steelmaking by encouraging the participation of young researchers in developmental and commercial projects.
JFE Steel and Tohoku University personnel assigned to the lab will jointly participate in three co-creative operations teams engaged respectively in process development, materials development, and planning and promotion. JFE Steel's head of operations will be Yuji Miki, a principal researcher at JFE Steel and a visiting professor at Tohoku University. Tohoku University's head of operational support will be Kyosuke Yoshimi, a professor in the Graduate School of Engineering at Tohoku University.
The Collaborative Research Laboratory for Green Steel will be based in the Collaborative Research Wing of the Materials Development section in Tohoku University's Graduate School of Engineering.
JFE Steel and Tohoku University, based on a collaborative agreement signed in 2017, have been working together to resolve issues concerning themes such as the reduction of CO2 emissions. In 2020, they established a collaborative research division to study advanced analytical technologies for steelmaking processes.
JFE Steel and Tohoku University, by implementing interdisciplinary industrial-academic collaboration projects at their new Collaborative Research Laboratory for Green Steel, look forward to accelerating R&D and human resource development for increased carbon neutrality and a more sustainable world.
Collaborative research laboratories are bases for collaboration between private industry and the faculty, expertise and facilities of academic institutions. The system facilitates diverse collaborative initiatives, notably planning and pursuing joint research, human resource development and other collaboration between the laboratories and university-based commercial startups.
Photo
Collaborative Research Wing, Materials Development, Graduate School of Engineering, Tohoku University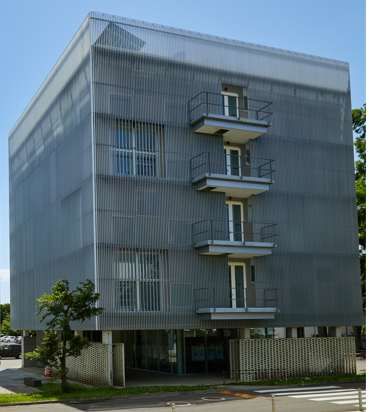 Related links:
JFE Steel and Tohoku University Establish Collaborative Research Laboratory of Advanced Analysis Technology for Steelmaking Processes
About JFE Steel Corporation
JFE Steel Corporation, one of the world's leading integrated steel producers, was established through the consolidation of NKK Corporation and Kawasaki Steel Corporation in 2003. The company operates several steelworks in Japan and numerous branch offices and affiliates throughout the world. JFE Steel leverages world-class technologies and know-how to produce a wide range of products based on its "Only One, Number One" strategy of focusing on unique and best-in-class products. The company reported consolidated sales of 2,255 billion yen and consolidated crude steel output of 23.96 million tons in the fiscal year ended March 2021.
# # #
For more information about this release, please contact: