News Release
JFE Steel Signs Long-term Charter for 3 LNG-fueled Ships to Transport Raw Materials Switch to LNG will help reduce greenhouse gas emissions

JFE Steel Corporation
JFE Steel Signs Long-term Charter for 3 LNG-fueled Ships
to Transport Raw Materials
Switch to LNG will help reduce greenhouse gas emissions
JFE Steel Corporation announced today that it has signed long-term deals with NYK Line, Kawasaki Kisen Kaisha and Mitsui O.S.K. Lines to charter three 210,000-ton LNG-fueled bulk carriers for transporting iron ore and coal from overseas locations to JFE Steel's steelworks in Japan. JFE Steel will become the first company in Japan to deploy LNG-fueled ships in the 210,000-ton class.
The ships, which have been designed by Nihon Shipyard and will be built by Japan Marine United and Imabari Shipbuilding, are scheduled to be completed successively from the beginning of 2024.
Each ship will have an overall length of less than 300m, beam of up to 50m, freeboard of up to 25m and draft of up to 18.4m. Maximum gross tonnage will be 110,800 tons and maximum deadweight capacity will be 210,000 tons (see illustration).
JFE Steel's shift to LNG-powered transportation will support global efforts to create a more carbon-neutral world by reducing greenhouse gas emissions generated during international shipping. Using LNG instead of conventional heavy-oil fuels can reduce emissions of carbon dioxide by around 25-30%, sulfur oxides by roughly 100%, and nitrous oxides by around 85%.
JFE Steel also plans to consider using zero-emission ships powered by other eco-friendly fuels such as ammonia and carbon-recycling methane.
Efforts to address climate change are a top priority for the JFE group. In May 2020, the company published the JFE Group Environmental Management Vision for 2050 as a blueprint for becoming carbon neutral by 2050. Going forward, JFE Steel will continue to contribute to a more sustainable world by collaborating intensively with the entire JFE group and outside partners to reduce CO2 emissions across its entire supply chain for steel.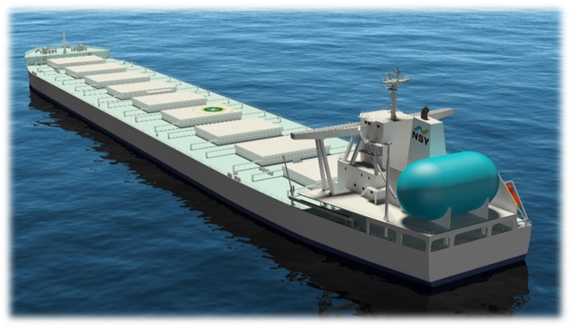 Illustration of LNG-fueled ship for transporting steel raw materials
About JFE Steel Corporation
JFE Steel Corporation, one of the world's leading integrated steel producers, was established through the consolidation of NKK Corporation and Kawasaki Steel Corporation in 2003. The company operates several steelworks in Japan and numerous branch offices and affiliates throughout the world. JFE Steel leverages world-class technologies and know-how to produce a wide range of products based on its "Only One, Number One" strategy of focusing on unique and best-in-class products. The company reported consolidated sales of 2,255 billion yen and consolidated crude steel output of 23.96 million tons in the fiscal year ended March 2021.
# # #
For more information about this release, please contact: