News Release
JFE Steel Develops Hot-continuous Rolling Process for HITEN

JFE Steel Corporation
JFE Steel Develops Hot-continuous Rolling Process for HITEN
JFE Steel Corporation announced today that it has developed the world's first hot-continuous-rolling (endless-rolling) process for high-tensile-strength steel sheets (HITEN). Mass production has already started at the hot-rolling mill of JFE Steel's Chiba facility, part of the company's East Japan Works, for the highly stable and productive manufacturing of high-tensile steel.
In 1996, JFE Steel developed the world's first endless-rolling process (Fig. 1) in which the leading and trailing ends of adjacent sheets that have been wound into coils are joined after roughing, which allows the coils to be inserted continuously into the finishing mill. The endless-rolling process has been deployed at JFE Steel's Chiba facility.
In the case of HITEN, however, joint strength and ductility are reduced due to elements such as silicon and manganese being added to improve the mechanical characteristics of these steel products.
JFE Steel has now developed technology for maintaining joint strength and ductility (Fig. 2) and suppressing breakage during finish rolling. As a result, endless rolling of high-strength steel has become possible, contributing greatly to the highly stable and productive manufacturing of high-tensile steel through improved threading performance.
JFE Steel, aiming to contribute to a more sustainable and carbon-neutral world, is committed to developing innovative production technologies, including for high-performance HITEN required for lighter-weight and more collision-safe automobiles, as well as expanding its supply of eco-minded products.
Fig. 1: Overview of Endless Rolling Equipment

Fig. 2: High-temperature Ductility of Joints Using Conventional and New Methods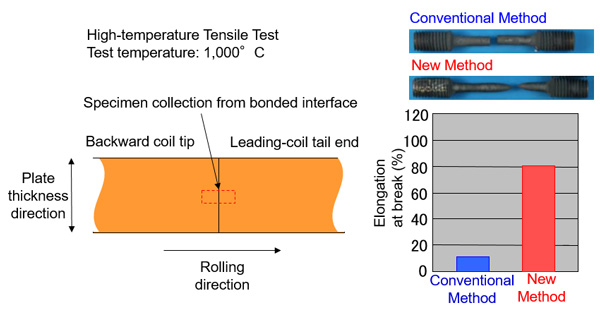 About JFE Steel Corporation
JFE Steel Corporation, one of the world's leading integrated steel producers, was established through the consolidation of NKK Corporation and Kawasaki Steel Corporation in 2003. The company operates several steelworks in Japan and numerous branch offices and affiliates throughout the world. JFE Steel leverages world-class technologies and know-how to produce a wide range of products based on its "Only One, Number One" strategy of focusing on unique and best-in-class products. The company reported consolidated sales of 2,681 billion yen in 2019 and consolidated crude steel output of 28.09 million tons in the fiscal year ended March 2020.
# # #
For more information about this release, please contact: