News Release
JFE Steel Develops Unique Ultrasonic Testing Robots for Inspecting Steel Plate Automates offline inspections for enhanced reliability and efficiency

JFE Steel Corporation
JFE Steel Develops Unique Ultrasonic Testing Robots for Inspecting Steel Plate
Automates offline inspections for enhanced reliability and efficiency
JFE Steel Corporation announced today that it has developed the world's first autonomous Ultrasonic Testing Robots (UT-Robots) for inspecting thick steel plate. The company has deployed three of the robots in a steel plate plant in Japan to carry out automated offline UT that are proving to be more reliable and efficient than conventional manual UT.
The robots are now in service at a plant in the company's Keihin-district operations, which are part of JFE Steel's multilocation East Japan Works. Additional robots will be deployed at steel-plate plants in the company's Kurashiki and Fukuyama districts within the multilocation West Japan Works. Going forward, JFE Steel expects the UT-robots to further enhance the quality of its steel plate products and also further streamline production operations.
Given the crucial importance of improving product quality, JFE Steel has continued to develop and deploy a range of testing equipment to ensure defect-free products. Automated online UT using ultrasonic technology has traditionally been used to detect most internal flaws in steel-plate products. For certain plate thicknesses, etc., however, experienced technicians occasionally must perform offline UT, a manual process that depends on how precisely inspection equipment is operated and how accurately the results are recorded as well as how efficiently the overall work is carried out. Improving the reliability and efficiency of such inspections has been an issue for some time.
To address the problem, JFE Steel developed a proprietary system combining an autonomous robot and UT equipment. Using a high-precision indoor location system to monitor actual and target positions, the robot can move autonomously along a target route to perform UT. In addition to improving inspection reliability to a level comparable to that of automated online UT, the system also streamlines the inspection process (Fig. 1). Inspection results are automatically saved digitally for easy traceability, monitoring and quality management. The latest version of the robot is also small and light enough for one person to carry around (Fig. 2).
JFE Steel is actively pursuing digital transformation (DX) in its internal operations, aiming to dramatically upgrade productivity and operational stability across all areas of manufacturing. Specific initiatives include opening the JFE Digital Transformation Center (JDXC™) and deploying cyber-physical systems (CPS) in manufacturing processes.
Fig. 1: Conventional vs. new inspection technology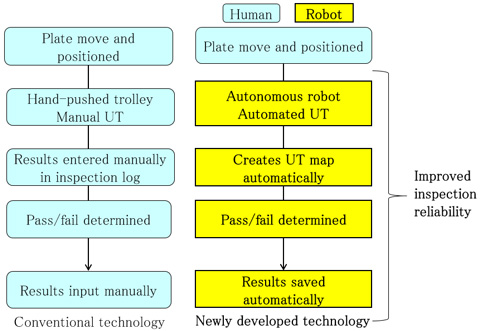 Fig. 2: Automated UT-robot and technician performing Manual UT side by side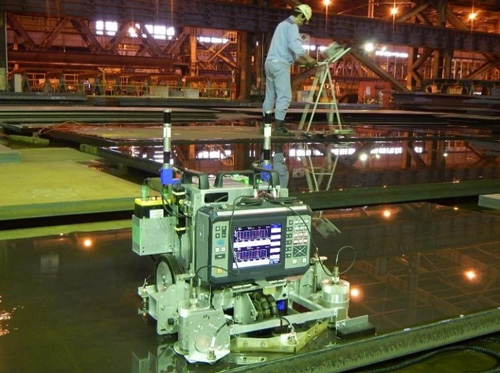 About JFE Steel Corporation
JFE Steel Corporation, one of the world's leading integrated steel producers, was established through the consolidation of NKK Corporation and Kawasaki Steel Corporation in 2003. The company operates several steelworks in Japan and numerous branch offices and affiliates throughout the world. JFE Steel leverages world-class technologies and know-how to produce a wide range of products based on its "Only One, Number One" strategy of focusing on unique and best-in-class products. The company reported consolidated sales of 3,900 billion yen in 2018 and consolidated crude steel output of 27.88 million tons in the fiscal year ended March 2019.
# # #
For more information about this release, please contact: