News Release
JFE Steels and BHP to address decarbonization in steelmaking process

JFE Steel Corporation
JFE Steels and BHP to address decarbonization in steelmaking process
JFE Steel Corporation has signed a memorandum of understanding (MOU) with leading global resources company BHP to collaborate in CO2 emissions reduction, a crucial topic for the global steelmaking industry.
Aiming to develop highly effective technologies for CO2 emissions reduction, the two firms will jointly study options involving the use of blast furnaces and direct reduced iron (DRI) in steelmaking, including new ways to utilize raw materials. Through the partnership, JFE Steel aims to measurably reduce CO2 emissions across steel-industry supply chains.
JFE Steel, which regards global climate change to be critical environmental, social and corporate governance (ESG) challenge, has set a goal of reducing its own CO2 emissions by 20% or more by fiscal 2030 relative to fiscal 2013 levels. Thereafter, backed by further advancements in decarbonization technology and infrastructure, the company aims to achieve carbon neutrality as soon as possible after 2050.
Ultimately, JFE Steel hopes to help realize a sustainable world by becoming carbon neutral and by contributing to CO2 emissions reduction across steel industry supply chains.
JFE Chief Executive Officer Yoshihisa Kitano said: "We recognize that raw material processing technology is very important in research and development to achieve carbon neutrality. We have been working closely with BHP to research raw-material utilization technology and mine development. It is very significant for us to work together to reduce CO2 emissions, an extremely important topic in the global steelmaking sector."
BHP's Chief Commercial Officer, Vandita Pant, said: "This partnership with JFE demonstrates a joint commitment to make our activities more sustainable through collaboration and technological improvement. This work will support and help progress Japan's carbon neutral ambitions by 2050."
As outlined in BHP's decarbonisation framework the steel industry is expected to move through stages of optimisation and transition for the existing integrated steelmaking route before reaching an end state of low or no carbon intensity.
"Our investments are focused on actions that can create real change, and we continue to take positive steps on our climate agenda and in collaborating with others to help reduce emissions in line with the Paris Agreement goals," Ms Pant said.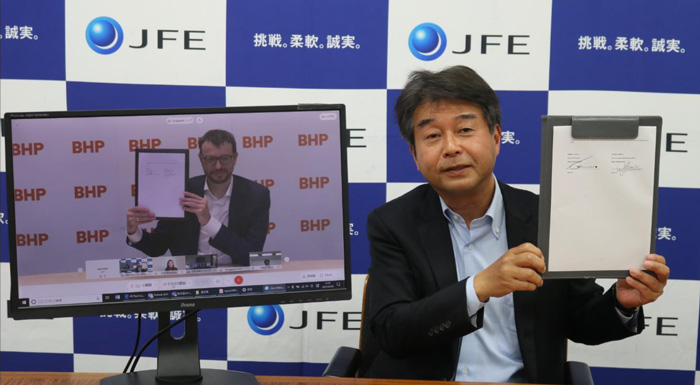 BHP Group Sales and Marketing Officer Michiel Hovers (left) and JFE Steel Vice
President Hiroshi Daimon (right) at MOU signing
About JFE Steel Corporation
JFE Steel Corporation, one of the world's leading integrated steel producers, was established through the consolidation of NKK Corporation and Kawasaki Steel Corporation in 2003. The company operates several steelworks in Japan and numerous branch offices and affiliates throughout the world. JFE Steel leverages world-class technologies and know-how to produce a wide range of products based on its "Only One, Number One" strategy of focusing on unique and best-in-class products. The company reported consolidated sales of 3,900 billion yen in 2018 and consolidated crude steel output of 27.88 million tons in the fiscal year ended March 2019.
# # #
For more information about this release, please contact: