News Release
Mr. Kitano's 2021 New Year's Message to the JFE Team
January 4, 2021
JFE Steel Corporation
Mr. Kitano's 2021 New Year's Message to the JFE Team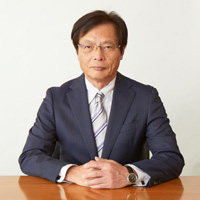 Happy New Year and warmest greetings to everyone.
Please allow me to begin by addressing the critical issue of safety. Regrettably, a serious accident occurred last year and we lost a precious life. I again offer my very deepest and most sincere condolences. Our basic principle is that safety is the company's very highest priority. Safety awareness must underlie and govern everything we do. We must continue to improve our safety practices and do everything possible to prevent recurrence of accidents.
Last March, we decided to implement structural reforms by realigning our production operations to concentrate on our strategic products. It was a difficult decision, but it was necessary to ensure our viability and continued growth.
Global economic and social activities were impacted in unprecedented ways by the COVID-19 pandemic last year. Demand for steel fell sharply, so we accelerated the revamping the Kurashiki No. 4 blast furnace and we optimized production, including by banking the Fukuyama No. 4 blast furnace. We also implemented emergency measures to reduce repair and maintenance costs, labor costs, and other variable costs. It was a year with a myriad of major challenges.
Although we expect to meet our cost-reduction targets, we anticipate the steel business will report a substantial loss for fiscal 2020. While we are seeing signs of recovery in some areas of demand, such as the automotive sector, the full extent of COVID-19's ongoing impact on the global economy remains to be seen. We must assume that the pace of recovery in economic activity will likely be moderate, so business conditions will almost certainly remain challenging.
JFE Steel's vision and challenges
In spite of 2021 looking like it will be another challenging year, we are steadfastly holding to our long-term vision of being a global steel supplier that constantly creates new value and grows together with its customers.
To realize this vision, it is crucial that we continue undertaking company-wide structural reforms to become an even more slim, resilient and competitive company, while bolstering our overseas earnings base. These efforts will be the cornerstones of our future growth.
That said, we are facing perhaps the greatest crisis in JFE's history, so we must do everything possible to prevail even in this adversity. In particular, it is imperative that we achieve profitability in the second half of fiscal 2020 and the whole of fiscal 2021.
To address the global issue of climate change, JFE Steel and the Japanese steel industry have continued to reduce CO2 emissions by introducing the world's most energy-efficient steelmaking technologies and by providing high-performance products that make automobiles lighter and more fuel efficient. But now we must do even more, developing goals for individual companies in addition to those for the industry as a whole.
Priorities for 2021
Now I would like to relate the main focus points for this new year.
First, we must ensure safe work practices. Safety is the foundation of our corporate activities and therefore has the highest priority. Without improving our safety record, we cannot increase our corporate value. This crucial recognition must guide all of our efforts at all of our work sites as we strive to further improve on industry-leading capabilities. As I mentioned at the very beginning, everything we do should be governed by the basic principle that safety is the top priority, above all else.
Second, we must achieve profitability. Our main task in the current crisis is to make profits in the second half of fiscal 2020 and for all of fiscal 2021. As we implement our structural reforms, we must cooperate and work closely with each other, and our various partner companies including our contractors, to improve productivity, strengthen the competitiveness of our domestic steelworks and manufacturing sites, and transform into an even more slim, resilient and competitive company. While we are producing more highly value-added products, we also need to improve yields in all processes. Our sales teams must boost their efforts, asking our customers not only recognize the value that our products offer but also to accommodate prices that reflect that value, securing the results promptly.
Third, we must expand our overseas business. Steel demand is declining in Japan, so we need to pursue growth overseas. We intend to grow our company by collaborating with overseas partners who share our values and welcome our assistance in enhancing their corporate value. We offer them advanced steel-technology solutions based on our extensive knowledge, technologies, skills and data, combined with leading-edge AI and IoT technologies. We plan to expand providing technology solutions to steel producers in other countries to add another revenue stream.
Fourth, we must adopt AI, IoT and other digital-transformation (DX) technologies. We continue to install sensors in our facilities and use the latest modelling technologies to visualize operating conditions. Ultimately, we aim to introduce cyber-physical systems, CPS, on all production lines. Simultaneously, we plan to develop human resources, including data scientists, who possess the skills required to maximize our usage of data assets. We expect to apply these technologies in a range of areas for diverse purposes, including technology transfer, HR development, aging equipment management, labor productivity enhancement, improved safety, disaster-prevention and environmental management, and quality control. Notably, in addition to using IT and AI to upgrade existing processes, we also want to deploy these new technologies to fundamentally transform the way we work.
Medium- and long-term objectives
Our executive team is currently discussing the critical issues we need to address as well as the goals we aim to pursue over the medium to long term. I will inform you of the results as soon as our discussions are complete. It is already clear, however, that our two most essential tasks will be to ensure the unwavering competitiveness of our steelworks as well as our manufacturing sites in Japan, and to develop new businesses capable of capturing overseas growth. Moreover, we believe that the key to success for both undertakings, will be digital technology and how we address the challenge of realizing a green society.
Realizing a green society is essential for sustainable global development. As an individual company we also intend to tackle this issue, considering it not only a challenge but a growth opportunity as well. Realizing a green society means working harder to protect the environment, including by reducing CO2 emissions. Last year, we set a goal to cut CO2 emissions by more than 20% in fiscal 2030 compared to fiscal 2013. We now have a project team reviewing a wide range of measures for achieving this goal. In addition to measures based on existing production processes, we will also develop new technologies over the longer term to become carbon neutral as soon as possible after 2050. At the same time, as pillars for future growth, we will continue providing advanced steel products for sectors that are expected to make key contributions to the realization of a green society, including steel for electric vehicles and offshore wind power generators.
2021 action plan
As to the year at hand, I would like to ask you to think seriously about how you can personally help overcome the challenges of the current crisis. There are several points I would like to stress.
First, let's maintain our challenging spirit and be ready to tackle new problems and issues as they arise. There always is something new waiting to be discovered, and opportunities for growth and improvement, even in routine work. Let's think about how we can make things better and not be afraid to fail the first time. If you're a manager, I want you to encourage your team to take on challenges, praising them for trying new things and avoiding blaming them if initial endeavors fail. Please help us overcome our current adversity by creating positive work environments and by encouraging attempts to try new things.
Second, let's all try to show more personal initiative by thinking, speaking up and acting without needing to be prompted. Please carefully consider what you want to accomplish and then how best to communicate and execute your ideas. The contributions of young teammates can be as important as those of veteran employees, so each of us needs to consider what we can do in our respective position and then take action.
Meanwhile, let's make our families and society proud by ensuring that our workplaces are safe environments where employees can work productively, free from concerns for their health and wellbeing. The general superintendent of each works is responsible for ensuring that work practices are safe in each district. I call on all managers to patrol your workplaces daily, observe your production and maintenance operations firsthand, and implement all necessary improvements. If something is not right, communicate fully with your teammates to decide how to rectify the situation. We must learn from past accidents and make every effort possible to prevent similar occurrences. If you are an operator, be thorough in your work and take action through self-initiative.
Maintaining the public's trust and confidence is a prerequisite in our business. Let's take every opportunity to stop and reconsider how even just one compliance violation can irreparably harm the trust that underpins our business and indeed threaten the very existence of our company.
Conclusion
Lastly, I have an important message for our colleagues in the labor union. As we work to address the unprecedented challenges we are facing, the union's understanding and cooperation is more necessary than ever before. If we can continue to work together and communicate closely, I believe we can overcome the current situation, so I sincerely ask for the union's ongoing cooperation.
In closing, may I thank you for taking the time to consider these points and requests.
I extend my very best wishes for health and prosperity, for you and for your families, in 2021.