News Release
JFE Steel Develops JNRF™ Silicon-gradient Steel Sheet for High-speed Motors —Minimizes high-frequency iron loss and improves high magnetic flux density—

JFE Steel Corporation
JFE Steel Develops JNRF™ Silicon-gradient Steel Sheet for High-speed Motors
—Minimizes high-frequency iron loss and improves high magnetic flux density—
JFE Steel Corporation announced today its recently developed JNRF™ silicon-gradient steel sheet for use in high-speed motors, which the company produces using proprietary chemical vapor deposition (CVD) technology for continuous siliconizing.1 The new material reduces high-frequency iron loss2 and improves magnetic flux density,3 thereby helping to increase motor torque and significantly improve efficiency for energy conservation.
Electrical steel sheets4, which are used widely as an iron core material for electrical equipment such as motors and transformers, are a key material governing the performance of electrical equipment. In recent years, efforts to increase driving frequency5 for the downsizing of electrical equipment have created needs to reduce iron loss in electrical steel sheets used in applications involving high-frequency drive. Silicon increases the electrical resistance of steel, so increasing the amount silicon helps to reduce iron loss in the high frequency range. JFE Steel developed a proprietary technology for CVD continuous siliconizing, and then used this process to produce JNEX Core®, a high-silicon (6.5%) steel sheet, and JNHF Core®, a silicon-gradient steel sheet with increased silicon concentration in its surface layer, both of which will enable JFE Steel customers to develop higher-quality products (Fig. 1①).
Fig. 1: Product Development Directionality and Magnetic Property of JNRF™ Steel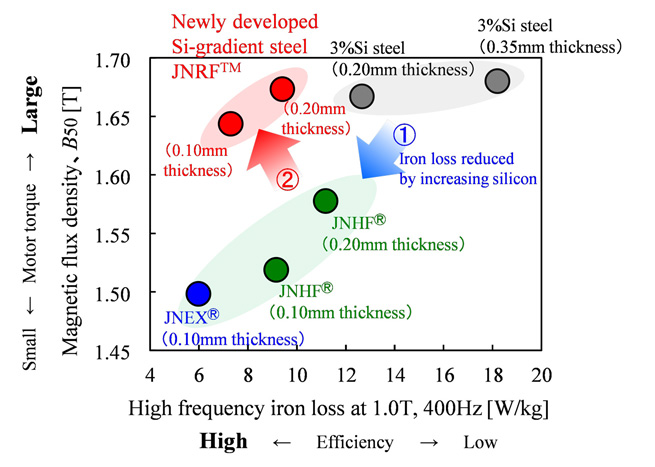 In high-speed motor applications, there are growing demands for reduced iron loss due to high-frequency drive and increased magnetic flux density for higher torque. In response, JFE Steel launched a plan to enhance its lineup of electrical steel sheet products. The solution was to control silicon concentration distribution by optimizing the siliconizing amount and diffusion conditions (Fig. 2) and control crystal orientation (Fig. 3).
The successful result of these efforts is JFE Steel's new JNRF™ silicon-gradient steel sheet for high-speed motors. JNRF™ helps to significantly increase motor efficiency for energy conservation while maintaining magnetic flux density (torque) equivalent to that of conventional non-oriented electrical steel sheets (3% silicon steel sheets) (Fig. 1②).
Fig. 2: CVD Continuous Siliconizing Process and Si Concentration Distribution Control

Fig. 3: Crystal Orientation Control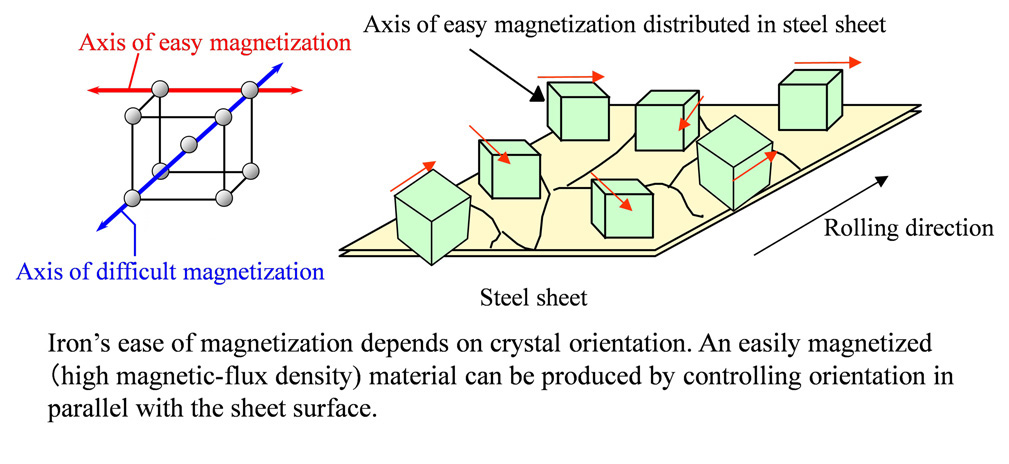 Moving forward, JFE Steel will endeavor to expand the applications for its electrical steel sheet products to help realize more compact and higher speed motor designs, such as drive motors for electric vehicles, motors for consumer electronics and drone motors, thereby meeting customer needs for extra efficient and compact electrical equipment in an increasingly sustainable world.
1 Chemical vapor deposition (CVD) continuous siliconizing process technology
The chemical vapor deposition (CVD) process technology increases silicon concentration in steel. CVD, which is performed in a steel strip annealing line, causes a reaction between steel strips and silicon tetrachloride (SiCl4) gas in a furnace while continuously passing the steel strips through the furnace.
2 High-frequency iron loss
Iron loss refers to energy, mainly heat, lost when an iron core is excited by an alternating current. The energy loss that occurs when the iron core is excited at high frequency is called a high-frequency iron loss. The efficiency of high-speed motors increases as high-frequency iron loss is reduced.
3 Magnetic flux density
Magnetic flux density, which indicates a material's ease of magnetization, raises electromagnetic strength as density increases. In motors, larger torque (power) can be achieved with materials that offer high magnetic flux density.
4 Electrical steel sheet
Electrical steel sheet (or "silicon steel sheet") is obtained by adding silicon to iron. Thin sheets used widely as iron core materials in equipment such as motors and transformers are first laminated with an insulation coating.
5 Driving frequency
In electrical equipment, the driving frequency is the number of oscillations per second of the current, voltage, etc. Ordinarily, driving frequency increases with motors that drive at high rotational speeds.
JNEX Core® and JNHF Core® are registered trademarks of JFE Steel Corporation.
About JFE Steel Corporation
JFE Steel Corporation, one of the world's leading integrated steel producers, was established through the consolidation of NKK Corporation and Kawasaki Steel Corporation in 2003. The company operates several steelworks in Japan and numerous branch offices and affiliates throughout the world. JFE Steel leverages world-class technologies and know-how to produce a wide range of products based on its "Only One, Number One" strategy of focusing on unique and best-in-class products. The company reported consolidated sales of 3,900 billion yen in 2018 and consolidated crude steel output of 27.88 million tons in the fiscal year ended March 2019.
# # #
For more information about this release, please contact: