News Release
JFE Steel Finishes Global Deployment of Noncontact Control Technology for Steel Sheet Galvanizing New system ensures stable supply of high-quality galvanized steel sheets

JFE Steel Corporation
JFE Steel Finishes Global Deployment of Noncontact Control Technology for Steel Sheet Galvanizing
New system ensures stable supply of high-quality galvanized steel sheets
JFE Steel Corporation has completed deployment of noncontact control technology for processing galvanized steel sheets on lines worldwide, including in the Chiba, Keihin, Kurashiki and Fukuyama areas of Japan and Thailand, Indonesia, China and Mexico overseas (see list). The technology is now contributing to the production of high-quality galvanized steel sheets on all continuous galvanizing lines (CGLs) operated by the company throughout the world.
On a CGL, the amount of zinc coating on a steel sheet is controlled by drawing the sheet continuously upward through a pot of molten zinc, and using wiping nozzles to remove excess. For uniform coating, the distance between the wiping nozzles and the steel sheet must be kept constant, so suppressing sheet vibration or warpage during the process is crucial.
JFE Steel's noncontact controller (see figure) uses a noncontact displacement sensor to detect unwanted vibration or warpage, which is then suppressed by controlling the position of the sheet through electromagnetic suction. Vibration and warpage can be controlled simultaneously because the noncontact controller is adjusted for the specific operational conditions of each line and the size of the particular sheets being manufactured. Furthermore, the technology achieves the necessary responsiveness and suction force required to control sheets on the line.
JFE Steel first enhanced the performance of its noncontact controller in Japan before deploying the technology in offshore subsidiaries beginning in 2015. The final deployment was completed recently on the CGL that began operating at Nucor-JFE Steel Mexico this past February.
Going forward, JFE Steel will continue to enhance its manufacturing processes with advanced control technologies, including through the application of data science, to ensure stable supplies of high-quality galvanized steel sheets for customers worldwide.
Offshore subsidiaries deploying JFE Steel's noncontact control technology for steel sheets
| | |
| --- | --- |
| JFE Steel Galvanizing (Thailand) Ltd. (JSGT) | Rayong Province, Thailand |
| Pt. JFE Steel Galvanizing Indonesia (JSGI) | Bekasi Province, Indonesia |
| Guangzhou JFE Steel Sheet Co., Ltd. (GJSS) | Guangzhou Province, China |
| Nucor-JFE Steel Mexico, S.de R.L.de C.V. (NJSM) | Guanajuato State, Mexico |
Noncontact controller for galvanized steel sheets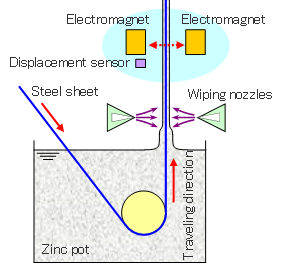 About JFE Steel Corporation
JFE Steel Corporation, one of the world's leading integrated steel producers, was established through the consolidation of NKK Corporation and Kawasaki Steel Corporation in 2003. The company operates several steelworks in Japan and numerous branch offices and affiliates throughout the world. JFE Steel leverages world-class technologies and know-how to produce a wide range of products based on its "Only One, Number One" strategy of focusing on unique and best-in-class products. The company reported consolidated sales of 3,900 billion yen in 2018 and consolidated crude steel output of 27.88 million tons in the fiscal year ended March 2019.
# # #
For more information about this release, please contact: