News Release
JFE Steel Develops "FM800" Nickel-free Alloyed Steel Powder—Offers Excellent Hardenability and Compressibility Iron Powder Metallurgy —

JFE Steel Corporation
JFE Steel Develops "FM800" Nickel-free Alloyed Steel Powder
—Offers Excellent Hardenability and Compressibility Iron Powder Metallurgy —
JFE Steel Corporation has recently developed FM800, a nickel-free alloyed steel powder offering 800 MPa-class tensile strength when sintered in a mesh-belt furnace, suitable for powder-metallurgy applications.
FM800 is an unprecedented alloyed steel powder that is prealloyed with 3% copper and 1.3% molybdenum, resulting in high tensile strength in the 800 MPa range when mesh-belt sintered. Moreover, whereas prealloying with alloy elements can reduce the compressibility of powder, JFE Steel has successfully achieved higher compressibility by controlling the production process. FM800's advantages are expected to be utilized for the manufacture of automotive and construction-equipment parts.
Conventionally, alloyed steel powder containing 4% nickel, 1.5% copper and 0.5% molybdenum after mesh-belt sintering has been used, but not without problems, especially a significant drop in post-sintering hardness that reduces machinability and increases processing costs, and susceptibility to fluctuations in the market price of nickel.
To address these issues, JFE Steel has been offering its FM Series of diverse nickel-free alloyed steel powders that enable customers to enhance product quality as well as cut costs. The FM Series includes FM600, which offers 600 MPa-class tensile strength when mesh-belt sintered; FM1000, which achieves 1,000 MPa-class tensile strength after carburization; FM1000S, which boasts extra toughness in addition to the properties of FM1000; and FM1300, which is heat-treated after high-temperature sintering to achieve superb tensile strength of 1,300 MPa.
In the case of 800 MPa-class tensile strength, however, nickel-free alloyed steel powder previously had to undergo carburization heat treatment, but JFE Steel's development team has been able to eliminate this step to help customers reduce costs.
JFE Steel is Japan's only manufacturer of a total range of iron powders, including reduced-iron powder, atomized-iron powder and alloyed-steel powder. As JFE Steel continues to tap new areas of demand and expand the use of iron powders, it will continue to focus on developing products that deliver increasingly enhanced quality, performance and sustainability.
FM800 Particle Structure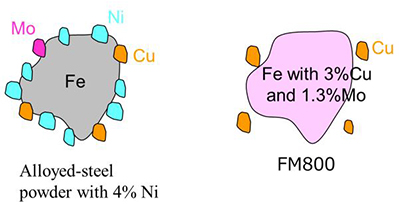 Fe: Iron, Mo: Molybdenum, Ni: Nickel and Cu: Copper
FM800 Microstructure after Sintering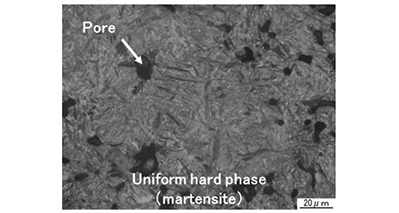 Sintered Density vs. Tensile Strength in FM800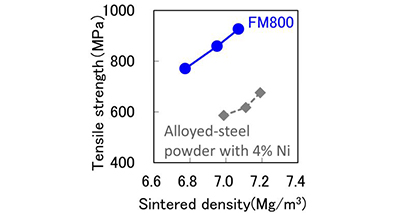 About JFE Steel Corporation
JFE Steel Corporation, one of the world's leading integrated steel producers, was established through the consolidation of NKK Corporation and Kawasaki Steel Corporation in 2003. The company operates several steelworks in Japan and numerous branch offices and affiliates throughout the world. JFE Steel leverages world-class technologies and know-how to produce a wide range of products based on its "Only One, Number One" strategy of focusing on unique and best-in-class products. The company reported consolidated sales of 3,900 billion yen in 2018 and consolidated crude steel output of 27.88 million tons in the fiscal year ended March 2019.
# # #
For more information about this release, please contact: