News Release
JFE Steel and Guangdong Shaoguan Iron and Steel Songshan Form Specialty Bar Steel Joint Venture in China

JFE Steel Corporation
JFE Steel and Guangdong Shaoguan Iron and Steel Songshan
Form Specialty Bar Steel Joint Venture in China
JFE Steel Corporation and Guangdong Shaoguan Iron and Steel Songshan Co., Ltd. (SGIS), an affiliate of China BaoWu Steel Group Corporation Limited, have reached an agreement under which JFE Steel will obtain a 50% share of Baosteel Special Steel Shaoguan Co., Ltd. (BSSS), a 100% subsidiary of SGIS, to launch a joint-venture company with SGIS for the production and sale of specialty bar steel.
A steady demand for high-grade steel is anticipated in China, the world's largest automotive market. Thus far, JFE Steel has met the procurement needs of China-based Japanese automakers through various joint ventures, but has relied solely on exports from Japan to meet demands for high-grade specialty bar steel.
To better serve local procurement needs and further cultivate the Chinese market for the JFE brand, JFE Steel had been exploring opportunities for the local production and sale of specialty bar steel. Recently, a chance to bid on an investment in BSSS appeared and JFE Steel won.
BSSS has a proven record of producing and selling specialty bar steel in China and JFE Steel has established a long-term relationship of trust with the BaoWu Group through other joint ventures, both of which were key factors in the decision to form the new joint venture.
In the near future, JFE Steel will enter into a formal equity-transfer and joint-venture contract with SGIS and thereafter acquire equity in the company once the relevant authorities approve the acquisition with respect to competition laws.
Supported by JFE Steel's production and quality-control expertise, the new company is expected to meet local needs for high-grade specialty bar steel, with a primary focus on Japanese customers
Overview of Joint Venture Company
Name
BaoWu JFE Special Steel Co., Ltd. (tentative)
Product
Specialty bar steel (primarily for automotive uses)
Capacity
Approximately 1.1 million tons/year
Employees
Approximately 500 (2018)
Location
Shaoguan, Guangdong Province
Ownership
JFE Steel Corporation: 50% (from SGIS)
Guangdong Shaoguan Iron and Steel Songshan Co., Ltd.: 50%
Overview of Guangdong Shaoguan Iron and Steel Songshan Co., Ltd.
Established
1997
Ownership
Guangdong Shaoguan Iron and Steel Group Company Limited: 53%
Chairman
Li Shiping
Business
Production of steel products such as steel bars, wire rods and steel plate
Position of New Joint Venture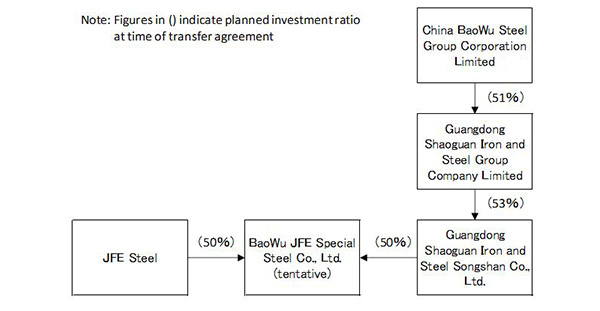 About JFE Steel Corporation
JFE Steel Corporation, one of the world's leading integrated steel producers, was established through the consolidation of NKK Corporation and Kawasaki Steel Corporation in 2003. The company operates several steelworks in Japan and numerous branch offices and affiliates throughout the world. JFE Steel leverages world-class technologies and know-how to produce a wide range of products based on its "Only One, Number One" strategy of focusing on unique and best-in-class products. The company reported consolidated sales of 3,900 billion yen in 2018 and consolidated crude steel output of 27.88 million tons in the fiscal year ended March 2019.
# # #
For more information about this release, please contact: