News Release
JFE Steel Initiating Company-wide System for Detecting Signs of Equipment Anomalies Using Data Science Technology—Aims to improve productivity by preventing faults before they occur—

JFE Steel Corporation
JFE Steel Initiating Company-wide System for Detecting Signs of Equipment Anomalies Using Data Science Technology
—Aims to improve productivity by preventing faults before they occur—
JFE Steel Corporation announced today that it has begun company-wide deployment of a system, called J-dscom™, that it recently developed and confirmed to be effective in applying the latest data science technology to detect signs of equipment anomalies at steelworks, an steel industry first. Initial deployments have already resulted in cases of production-line equipment installed with the system detecting signs of anomalies, allowing preemptive repairs to be made to restore the equipment to normal before potentially disruptive faults occurred. Moving forward, JFE Steel expects to utilize its new system to stabilize equipment operations for improved productivity at its steelworks.
Steelworks are sprawling facilities filled with diverse equipment for wide-ranging processes, such as raw material unloading/storage, pig iron production, steel production, rolling and other processes, and shipment of final products. Much of equipment is closely interrelated, so the failure of one piece of equipment can impact many other operations. As such, there is a strong demand for technology that can detect anomalies at an early stage. JFE Steel has been working to meet this demand by developing detection technology incorporating data science, such as big-data analysis.
Conventionally, after an equipment fault occurs, an fault -monitoring model is created for the specific fault to prevent a recurrence. Conventional approaches are becoming insufficient at many steelworks operating high percentages of equipment that were introduced decades ago and are now causing unexpected faults. Monitoring systems that can preemptively detect anomalies, including unexpected faults, are required.
The new J-dscom™ system detects anomalies at an early stage by using abnormality indices to measure the degree of deviation from a reference value based on normal operation. Iron manufacturing involves a wide variety of devices and gauges, so variables indicating the operation status such as current, pressure, flow rate, temperature, vibration, etc. are enormous, with several hundreds or more. J-dscom™ (a portmanteau of "data science" and "communication") uses big-data analysis to efficiently and comprehensively analyze vast amounts of data collected from diverse equipment.
For efficient monitoring, the change in degree of abnormality in terms of magnitude is mapped over time, making it easy for technicians to review that data at the manufacturing site. If a high degree of abnormality is detected, appropriate repairs can be devised to countermeasures the specific fault and piece of equipment, thereby lower the chance of a significant fault occurring. Monitoring the degree of deviation from normal enables the system to help prevent unexpected faults as well as faults experienced in the past (Fig. 1).
Fig. 2 shows an example of using the system to prevent a fault by first identifying a rising degree of abnormality and then implementing repairs to restore precision operation, as indicated by a sudden and sharp fall in the abnormality score.
This system was first introduced in a hot rolling plant in the Kurashiki District of JFE Steel's West Japan Works, where effectiveness was confirmed. A sequential company-wide rollout, now under way, encompasses other manufacturing processes and other steelworks.
In addition to using J-dscom™ to monitor equipment on an overall basis, it has also become possible to monitor individual equipment, such as a motor or blower, and even individual instruments by checking upper and lower limits. Three-level monitoring helps to improve productivity by allowing measures to be applied on any of three levels according to the specific fault (Figure 3).
JFE Steel believes that incorporation of the latest data science is essential for maintaining competitiveness in the global steel industry. The use of advanced IT technology is one of the important strategies in policies in parent JFE's Sixth Medium-term Business Plan. To further such initiatives, JFE established its Data Science Project Department in October 2017 and Cyber Physical System R&D Department in April 2019. Moving forward, JFE Steel will continue to develop and adopt technologies, including CPS, for use in practical applications that lead to enhanced productivity and increased competitiveness.

Fig. 1 Anomaly-detection flow using J-dscom™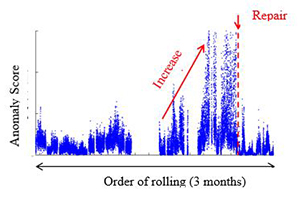 Fig. 2 Falling Degree of Anomaly at the Facility (Example)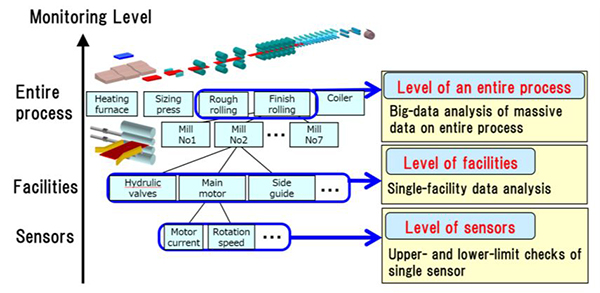 Fig. 3 Three-level monitoring with J-dscom™ (example: hot rolling process)
About JFE Steel Corporation
JFE Steel Corporation, one of the world's leading integrated steel producers, was established through the consolidation of NKK Corporation and Kawasaki Steel Corporation in 2003. The company operates several steelworks in Japan and numerous branch offices and affiliates throughout the world. JFE Steel leverages world-class technologies and know-how to produce a wide range of products based on its "Only One, Number One" strategy of focusing on unique and best-in-class products. The company reported consolidated sales of 3,900 billion yen in 2018 and consolidated crude steel output of 27.88 million tons in the fiscal year ended March 2019.
# # #
For more information about this release, please contact: