News Release
JFE Steel Introduces Industry's first Image-based Technology for Detecting Surface Defects in Mill Scale Steel—Achieves more accurate detection than visual inspection process—

JFE Steel Corporation
JFE Steel Introduces Industry's first Image-based Technology
for Detecting Surface Defects in Mill Scale Steel
—Achieves more accurate detection than visual inspection process—
JFE Steel Corporation announced today that it has developed and commercially deployed the steel industry's first image-based surface-inspection technology for automatically detecting concave and convex surfaces on a manufacturing line producing mill-scale steel, providing an efficient automated solution that replaces visual inspections.
The newly developed twin-illumination and subtraction technique is the first automated solution capable of identifying concave and convex surfaces in mill-scale steel. The key is the technology's capability to distinguish between defective (concave and convex) surfaces and non-defective (flat) surface with scaly patterns that inhibit the detection of concave and convex parts. The solution takes photos at high speed while illuminating the surface alternately from two directions, and then analyzes differences in the two photos by looking for the shadows created by concave and convex surfaces (see figure).
As one of many initiatives to improve the quality of its steel products, JFE Steel is developing advanced inspection devices to help ensure that its products are defect-free. It has already introduced an automated surface-inspection technology that uses lights and cameras to search for defects on the surfaces of cold-rolled steel sheets for vehicles and other applications. In the case of steel pipes, thick steel sheets and other such steel products covered with a black-oxide surface film, called mill scale, distinguishing between naturally occurring surface patterns and defectively concave and convex surfaces has proven difficult.
JFE Steel is using its new technology at a seamless pipe plant in the Chita Works and at a thick plate plant in the Keihin District of the East Japan Works. Additional deployments are planned at a welded pipe plant in the Chita Works and at thick plate plants in the Kurashiki and Fukuyama districts of the West Japan Works.
JFE Steel, aiming to maintain its competitiveness in the global steel industry, is continuously implementing quality improvements for increased customer satisfaction. Through further development and practical application of this new surface-inspection technology, JFE Steel looks forward to offering customers even higher product quality.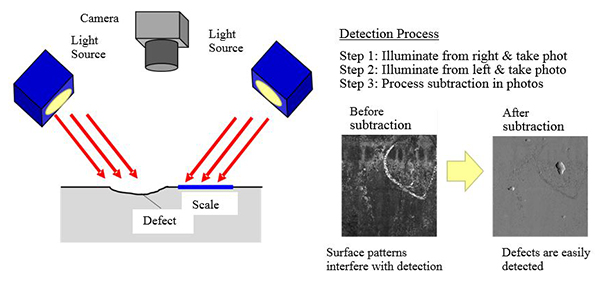 Fig. 1 Twin-Illumination and Subtraction Technique
About JFE Steel Corporation
JFE Steel Corporation, one of the world's leading integrated steel producers, was established through the consolidation of NKK Corporation and Kawasaki Steel Corporation in 2003. The company operates several steelworks in Japan and numerous branch offices and affiliates throughout the world. JFE Steel leverages world-class technologies and know-how to produce a wide range of products based on its "Only One, Number One" strategy of focusing on unique and best-in-class products. The company reported consolidated sales of 3,900 billion yen in 2018 and consolidated crude steel output of 27.88 million tons in the fiscal year ended March 2019.
# # #
For more information about this release, please contact: