News Release
Al Gharbia Pipe Co. Starts Commercial Production of Large-diameter Welded Pipe in UAE

JFE Steel Corporation
Marubeni-Itochu Steel Inc.
Al Gharbia Pipe Co. Starts Commercial Production of Large-diameter Welded Pipe in UAE
Al Gharbia Pipe Company (AGPC), a venture company funded by JFE Steel Corporation, Marubeni-Itochu Steel Inc. (MISI) and SENAAT General Holding Corporation, a wholly owned investment holding company of the United Arab Emirates (UAE), began commercial production of large-diameter welded pipe on September 10, JFE Steel and MISI announced today.
AGPC also confirms that, it has been awarded a contract to supply conductor pipes for Hail and Ghasha offshore sour gas fields by Abu Dhabi National Oil Company (ADNOC).
AGPC was established in May 2015 to manufacture and sell high-end steel pipe for mainly oil and gas pipelines. Plant construction began in 2016 and the first steel pipe prototypes were produced in March 2018.
Because Middle Eastern oil and gas has a high content of hydrogen sulfide, pipelines that transport either resource must be corrosion resistant. JFE Steel, drawing on its deep arsenal of world-leading technologies, provided AGPC with the technology required to manufacture high-quality steel pipe with the necessary corrosion resistance. For sales, MISI is providing AGPC with support via its extensive worldwide sales network.
Going forward, AGPC will use the name recognition of its parent company, SENAAT, a wholly owned company of the Abu Dhabi government, in its manufacture and supply of high-quality steel pipe to help meet global energy needs.
Large diameter, welded steel pipe manufactured by AGPC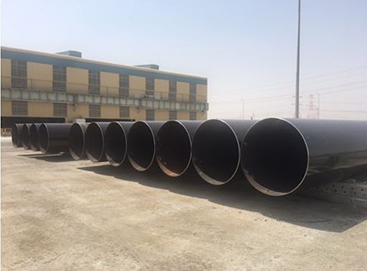 AGPC's production facility in UAE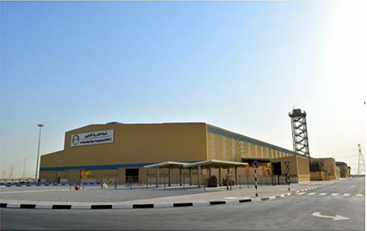 AGPC Overview
Name
Al Gharbia Pipe Company (Al Gharbia means "westward" or "west" in Arabic.)
Location
Khalifa Industrial Zone (KIZAD), Abu Dhabi
Establishment
May 2015
Paid-in capital
Approx. 300 million USD
Ownership

•SENAAT

51%


•JFE Steel

27%


•MISI

22%
Products
Large-diameter welded pipe for oil and natural gas pipeline
Target sales
Approx. 240,000 ton/year (about 820 km of pipeline)
About JFE Steel
JFE Steel Corporation, one of the world's leading integrated steel producers, was established through the consolidation of NKK Corporation and Kawasaki Steel Corporation in 2003. The company operates several steelworks in Japan and numerous branch offices and affiliates throughout the world. JFE Steel leverages world-class technologies and know-how to produce a wide range of products based on its "Only One, Number One" strategy of focusing on unique and best-in-class products. The company reported consolidated sales of 3,900 billion yen in 2018 and consolidated crude steel output of 27.88 million tons in the fiscal year ended March 2019.
# # #
For further information, please contact: