News Release
JFE Steel and CSIRO agree to collaborate on Long-term Research

JFE Steel Corporation
CSIRO
JFE Steel and CSIRO agree to collaborate on Long-term Research
-To encourage joint research activities in characterization and agglomeration techniques for ironmaking raw materials to maximize blast furnace operation-
JFE Steel and Australia's national science agency, CSIRO, are planning joint research activities in the area of characterization and agglomeration of raw materials for blast furnace ironmaking.
CSIRO is Australia's national science research agency and Australia's largest patent holder. The organisation conducts applied scientific research and is responsible for technologies including fast Wi-Fi, LASC longwall mining automation technology, and the development of more efficient process technologies for sintering and CO2 emissions reduction. CSIRO's work includes international research, scientific publications, commercialisation, collaboration, and the dissemination of information about science and technology.
JFE and CSIRO have been collaborating closely in industry-leading high-level research activities and has together won the Sawamura Award from the Iron and Steel Institute of Japan for one of their joint publications. Meanwhile, due to the depleting reserves of traditional high grade iron ore, there have been considerable changes in iron ore resources available throughout the world. In order to maximise the value of raw materials, accurate characterization and novel agglomeration techniques of ironmaking raw materials, such as iron ores and coal, are urgently required for efficient pretreatment and blast furnace operation.
Due to the challenges resulting from the rapid changes in raw material supplies and properties, JFE and CSIRO have identified opportunities to work collaboratively on the characterisation and agglomeration of blast furnace raw materials. JFE will actively promote advanced joint research with CSIRO and advance opportunities to cooperate in the characterization and agglomeration techniques of ironmaking raw materials. A key focus of the agreement is to encourage joint research activities to:
1. Conduct innovative research on the granulation and sintering characteristics of new ore types, sintering process and high temperature behavior of burden materials in blast furnaces;
2. Combining the research strengths of both organisations for improved research outcomes;
3. Exchange and host research and technical staff at each other's sites to carry out the creative research required.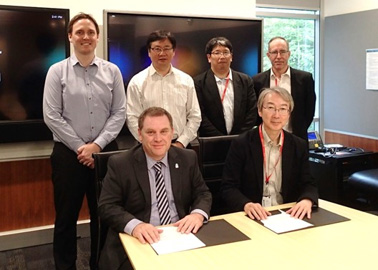 About JFE Steel
JFE Steel Corporation, one of the world's leading integrated steel producers, was established through the consolidation of NKK Corporation and Kawasaki Steel Corporation in 2003. The company operates several steelworks in Japan and numerous branch offices and affiliates throughout the world. JFE Steel leverages world-class technologies and know-how to produce a wide range of products based on its "Only One, Number One" strategy of focusing on unique and best-in-class products. The company reported consolidated sales of 3,900 billion yen in 2018 and consolidated crude steel output of 27.88 million tons in the fiscal year ended March 2019.
# # #
For more information about this release, please contact: