News Release
JFE Steel Starts Mass Producing JATT® High-strength, High-elongation Steel Sheet for Packaging Applications – Enables enhanced formability and thinner-gauge products –

JFE Steel Corporation
JFE Steel Starts Mass Producing JATT® High-strength, High-elongation
Steel Sheet for Packaging Applications
– Enables enhanced formability and thinner-gauge products –
Tokyo --- JFE Steel announced today that it has begun mass producing its new JATT® (JFE Advanced Thin-gauge Tin-mill Products) high-strength, high-elongation steel sheet for packaging applications. The company used its proprietary materials design expertise to develop JATT, which achieves both an excellent elongation of up to 20% relative to the average of 3~5 % of conventional DR ("Double cold-Reduced") steel sheet and the same level of strength as DR steel sheet. JATT improves formability in the can making process and contributes to the gauge reduction of can products. JFE Steel begins full-scale supply of JATT steel sheets to a wide range of customers in the near future.
Conventional DR steel sheet has high strength, but its elongation properties are reduced. At times, this can lead to cracks developing in rivets, flanges and beads when producing "Easy Open Ends" (which do not require the use of can openers) or three-piece can bodies.
JFE Steel's newly developed JATT largely eliminates such problems as a high-strength steel sheet with favorable elongation properties. Furthermore, compared to conventional SR ("Single cold-Reduced") steel sheet of the same thickness, JATT offers greater strength and greater resistance to buckling or deformation due to dents, which will enable can manufacturers to produce thinner-gauge products.
JATT steel sheet is offered in four grades of hardness and yield strength to meet a wide range of customers' applications and requirements.
Going forward, JFE Steel will continue exploring ways to satisfy customers' needs with its proprietary advanced technologies.
Cans made of JATT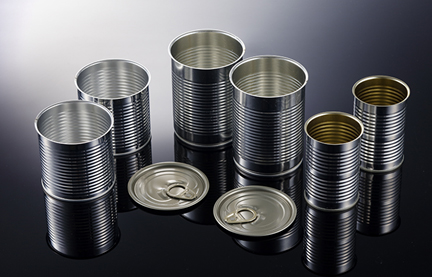 JATT Lineup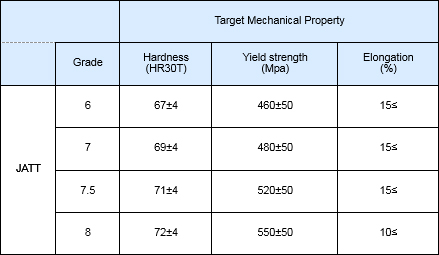 JATT® is registered trademark of JFE Steel Corporation.
About JFE Steel
JFE Steel Corporation, one of the world's leading integrated steel producers, was established through the consolidation of NKK Corporation and Kawasaki Steel Corporation in 2003. The company operates several steelworks in Japan and numerous branch offices and affiliates throughout the world. JFE Steel leverages world-class technologies and know-how to produce a wide range of products based on its "Only One, Number One" strategy of focusing on unique and best-in-class products. The company reported consolidated sales of 2,349 billion yen and consolidated crude steel output of 30.41 million tons in the fiscal year ended March 2017. For more information, please visit www.jfe-steel.co.jp/en.
# # #
For more information about this release, please contact: