News Release
JFE Steel's New Steel Plate Achieves Extended Painted Life for Enhanced Corrosion Resistance in Steel Structures and Machinery — Helps to reduce lifecycle costs especially in highly corrosive environments —

JFE Steel Corporation
JFE Steel's New Steel Plate Achieves Extended Painted Life for Enhanced
Corrosion Resistance in Steel Structures and Machinery
— Helps to reduce lifecycle costs especially in highly corrosive environments —
Tokyo --- JFE Steel Corporation announced today that it has developed a steel plate, named EXPAL™ (short for "extend painted life"), which compared to conventional carbon steel more than doubles the time before having to repaint bridges, construction machinery, industrial machinery, etc., thereby helping to reduce the lifecycle costs of steel structures located in highly corrosive environments such as coastal areas. JFE Steel has registered EXPAL steel plate with the New Technology Information System (NETIS) of Japan's Ministry of Land, Infrastructure, Transport and Tourism.
Steel structures used over long periods of time require repainting, especially bridges and other infrastructure in severe corrosive environments. In addition to the use of steel plate, high-durability paint and surface treatments help to extend the period of time before repainting.
EXPAL uses traces of corrosion-resistant elements to steel and optimized rolling conditions to achieve high corrosion resistance after painting, in addition to offering the same mechanical properties of conventional rolled steel for welded structures (SM steel) specified in JIS G 3106. Using a corrosion testing method that simulates atmospheric corrosion, JFE Steel estimated the long-term coating damage of the C-5 Paint System (heavy-duty anticorrosion coating specified in the Handbook for Anti-corrosion for Steel Road Bridges) commonly used for bridges. The tests verified that EXPAL steel plate can more than double painting intervals compared to that of conventional carbon steel. When used in severe corrosive environments, carbon steel requires repainting generally once every 30 years or so, whereas EXPAL steel plate can extend the period up to approximately 70 years.
EXPAL steel plate meets the requirements of rolled steel for general structures including bridges (SS steel) specified in JIS G 3101, rolled steel for welded structures (SM steel) specified in JIS G 3106, and higher-yield-strength steel plate for bridges (SBHS steel) specified in JIS G 3140.
One of the distinct advantages of EXPAL steel plate is that it allows repainting to be extended without having to change the designs of bridges. Furthermore, it is suitable for not only bridges, but also construction machinery, industrial machinery, tanks and more. JFE Steel is using EXPAL steel plate for a storage tank currently under construction at its East Japan Works.
Going forward, JFE Steel will continue to develop high-performance, high-quality steel products that meet diverse needs, including by enhancing the safety, economic efficiency and reliability of infrastructure and machinery and contributing to global environmental protection.
Figure 1 Lifecycle cost of steel treated with C-5 paint system in severe corrosive environment (carbon steel initial cost = 1)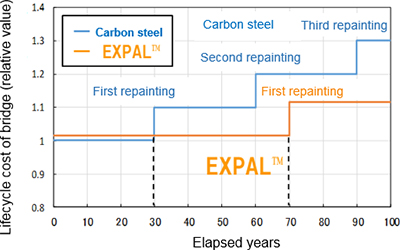 Figure 2 Estimated long-term coating damage of C-5 Paint System coated film due to corrosion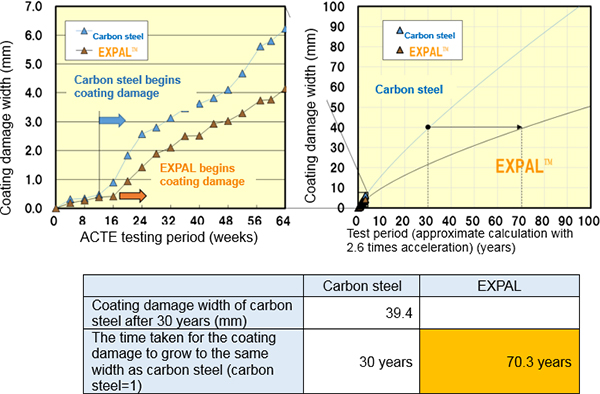 Photo 1 C-5 Paint System coating damage after corrosion testing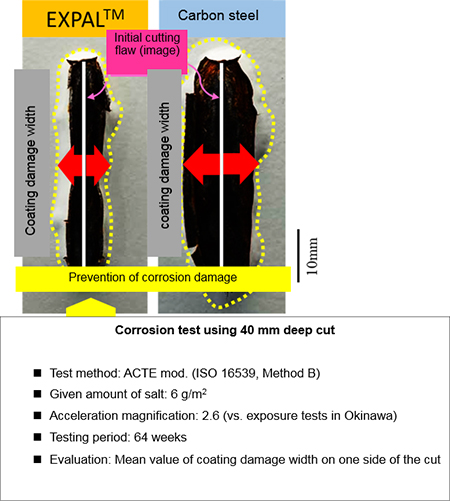 About JFE Steel
JFE Steel Corporation, one of the world's leading integrated steel producers, was established through the consolidation of NKK Corporation and Kawasaki Steel Corporation in 2003. The company operates several steelworks in Japan and numerous branch offices and affiliates throughout the world. JFE Steel leverages world-class technologies and know-how to produce a wide range of products based on its "Only One, Number One" strategy of focusing on unique and best-in-class products. The company reported consolidated sales of 2,349 billion yen and consolidated crude steel output of 30.41 million tons in the fiscal year ended March 2017. For more information, please visit www.jfe-steel.co.jp/en.
# # #
For more information about this release, please contact: