News Release
JFE's Accounting System Overhaul Project Earns Regional Choice Award in SAP Innovation Awards 2018

JFE Steel Corporation
JFE's Accounting System Overhaul Project
Earns Regional Choice Award in SAP Innovation Awards 2018
Tokyo --- JFE Steel announced today that its project to overhaul the JFE Group's "J-FACE" group-wide accounting system has received the Asia-Pacific Regional Choice award in the SAP Innovation Awards 2018 run by SAP SE. Regional Choice awards recognize the most compelling examples of innovation leadership in each region. The project was praised for its success in rapidly deploying the new system at JFE Group companies to significantly reduce the number of servers used across the overall accounting system and thereby lower IT support costs.
An awards ceremony was held during SAPPHIRE NOW, SAP's largest annual conference, in the U.S. city of Orlando, Florida on June 6.
The SAP Innovation Awards showcase SAP customers' innovative applications of SAP platform technology to business scenarios. Award winners are selected not only for the strategic use of IT but also for the business and social impact of their projects. This year, the awards recognized 27 companies from around the world.
JFE Steel determined that a replacement of its fundamental systems was necessary to support the running of its businesses in Japan and abroad, its future adoption of International Financial Reporting Standards (IFRS), and the simplification and streamlining of its business processes. It began studying the prospect of overhauling the core system, J-FACE in the fall of 2015. The project adhered closely to JFE's policy of building new processes and systems to make maximum use of product functions.
The system was deployed at JFE Steel and JFE Holdings within a period of nine months and then was rolled out to 79 group companies in just 11 months. The project reduced the number of servers used across the entire accounting system by 75%, thereby lowering related IT support costs. Based on these successful outcomes, the project has received global praise and now has earned SAP's Regional Choice award.
The JFE Group, which actively adopts information and communications technology (ICT), is the only steelmaker to have been named by Japan's Ministry of Economy, Trade and Industry as a Competitive IT Strategy Company for four consecutive years beginning in 2015. Going forward, JFE Steel will continue to pursue sustained growth and greater corporate value, aiming to strengthen its global presence by delivering world-class technology and services to customers.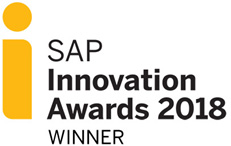 About JFE Steel
JFE Steel Corporation, one of the world's leading integrated steel producers, was established through the consolidation of NKK Corporation and Kawasaki Steel Corporation in 2003. The company operates several steelworks in Japan and numerous branch offices and affiliates throughout the world. JFE Steel leverages world-class technologies and know-how to produce a wide range of products based on its "Only One, Number One" strategy of focusing on unique and best-in-class products. The company reported consolidated sales of 2,349 billion yen and consolidated crude steel output of 30.41 million tons in the fiscal year ended March 2017. For more information, please visit https://www.jfe-steel.co.jp/en.
# # #
For more information about this release, please contact: