News Release
JFE Steel's Highly Weldable CO2 Arc Welding Technology Adopted for Kumamoto Castle Reconstruction

JFE Steel Corporation
JFE Steel's Highly Weldable CO2 Arc Welding Technology Adopted
for Kumamoto Castle Reconstruction
Tokyo --- JFE Corporation announced today that its proprietary high-weldability CO2 arc-welding technology, "Ultra-narrow-gap J-STAR® Welding," was used for corner welding in the assembly of a box column that supports the large keep, or fortified tower, of Kumamoto Castle. The feudal-era castle is undergoing major reconstruction following damage caused by a large earthquake in 2016. Nagai Steel Co. used JFE Steel's advanced welding method to complete the assembly of the box column, which has been installed at the castle.
Narrow-gap welding requires a relatively narrow gap between the base metals during welding. J-STAR ("JFE spray transfer arc") is a CO2 gas-shielded arc welding process that greatly reduces the amount of spatter and achieves deeply penetration during welding.
The reconstructed keep has a steel frame comprising small-diameter square steel pipe. To assemble the box column, four steel plates had to be welded in a square shape for each corner. It was determined that welding technology offering high workability and limited welding deformation was required for the box column assembly. JFE Steel's Ultra-narrow-gap J-STAR® Welding technology was adopted because it uses an optimally designed welding nozzle to cut the cross-sectional area of the welding groove by almost half, resulting in minimized deformation and fast, efficient work.
Submerged arc welding is an efficient method for welding box-column corners, but if small-diameter square steel pipe are involved, the high heat input used in submerged arc welding can cause deformations. The process feeds the welding wire into areas spread with granular flux, which generates an arc under the flux. Although conventional CO2 arc welding is an inexpensive welding process that is used widely as gas shield arc welding using 100% CO2 for the shielding gas, and uses lower heat input, it is not an efficient method for a very high number of passes in a multi-pass welding process.
Going forward, JFE Steel expects to use Ultra-narrow-groove J-STAR® Welding, one of the company's unique "Only One" technologies, to meet the special needs of using high-performance steel in construction.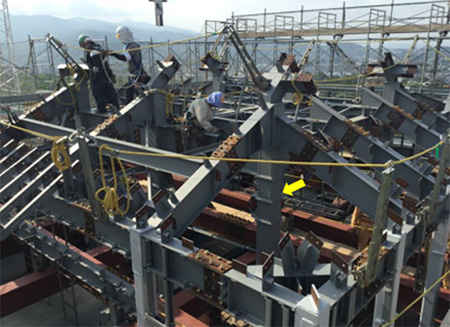 Fig. 1 Steel frame of Kumamoto Castle's large keep (arrow points to box column made with Ultra-narrow-gap J-STAR® Welding technology)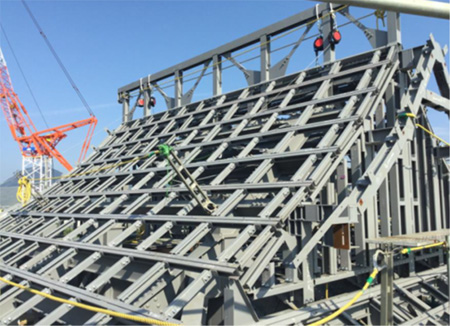 Fig. 2 Steel framework on the sixth floor of large keep at Kumamoto Castle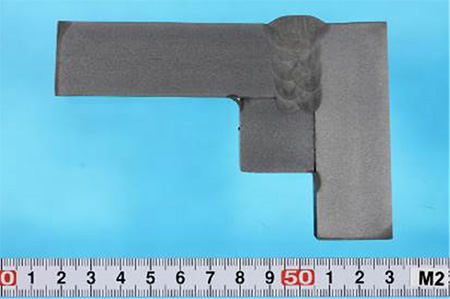 Fig. 3 Cross section of corner weld done with Ultra-narrow-gap J-STAR® Welding
Kumamoto Castle large keep restoration and maintenance project
| | |
| --- | --- |
| Project place: | Kumamoto, Kumamoto Prefecture, Japan |
| Issuer of order: | Kumamoto City |
| Construction company: | Obayashi Corporation |
| Project period: | December 2016 – March 2021 |
| Structure: | Steel-reinforced concrete, partially reinforced concrete, and steel framing for sixth and basement floors |
| Total floor area: | 3,068.3 m2 |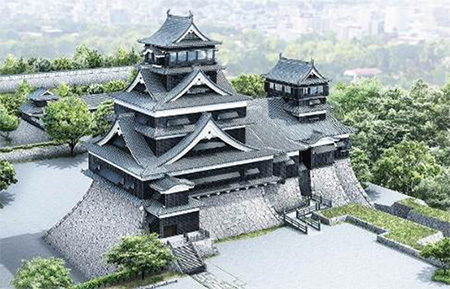 Rendition of completed project (source: from Kumamoto City website)
About JFE Steel
JFE Steel Corporation, one of the world's leading integrated steel producers, was established through the consolidation of NKK Corporation and Kawasaki Steel Corporation in 2003. The company operates several steelworks in Japan and numerous branch offices and affiliates throughout the world. JFE Steel leverages world-class technologies and know-how to produce a wide range of products based on its "Only One, Number One" strategy of focusing on unique and best-in-class products. The company reported consolidated sales of 2,349 billion yen and consolidated crude steel output of 30.41 million tons in the fiscal year ended March 2017. For more information, please visit https://www.jfe-steel.co.jp/en.
# # #
For more information about this release, please contact: