News Release
January 4, 2018
JFE Steel Corporation
2018 New Year's Message to Employees
Koji Kakigi
President and CEO, JFE Steel Corporation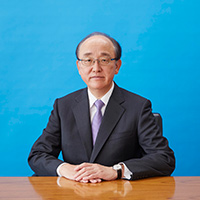 Happy New Year, and warm greetings as we begin 2018!
Looking back at the world situation over the past twelve months, 2017 was a relatively stable year. However, geopolitical risks and global uncertainties increased. Following the inauguration of President Trump, the U.S. withdrew from the TPP trade agreement and the Paris climate accord. Escalation of North Korean missile launches and nuclear weapons development also added to worldwide tension.
Global oversupply continued within the steel industry but Chinese steel exports decreased due to measures in China to reduce production capacity and expand domestic demand. As a result, the global steel market experienced strong growth in the second half of 2017. However, the prices for coking coal and other natural resources continued to fluctuate. Also, whether Chinese government policies continue remains to be seen. I feel uncertainties are increasing. Meanwhile, the speed of change is accelerating worldwide, including new policies to promote conversion to electric vehicles in various countries and technological innovations such as IoT and AI.
JFE Steel recorded a loss in two consecutive years and I asked you all to help make 2017, the final year of our Fifth Medium-term Plan, a 'year of results'. Thanks to your efforts to implement our Fifth Medium-term Plan in response to fast and profound market changes, a V-shaped recovery in earnings is likely to become a reality. I am grateful for your dedication and hard work, and proud of the results we produced. However, it cannot be denied that part of the reason for our improved performance was this overall recovery in the international steel market. Furthermore, in terms of enhancing our manufacturing infrastructure, We reduced the volume of the coke we purchased, but we are still on our way in stabilizing our operations and production, our key medium-term goal.
Our Vision and Challenges
In 2018, the first year of our Sixth Medium-term Plan, we will continue to pursue our long-term vision of being a global steel supplier that steadily creates new value and grows with customers, as stated in the Fifth Medium-term Plan. I will now elaborate on the challenges for achieving that vision, which are basically the same as those during the previous medium term.
Firstly, our major challenge is to continue investing in our manufacturing infrastructure. Last year, the initial plan was to increase capital investment in the sixth medium term by 10% from that in the fifth term. We have since decided to accelerate projects with high prospects, so we now plan to increase investment by 30%.
We were unable to raise profit as planned in the fifth medium term, so to fund our capital investment plans we are selling stock we hold. We will continue to make the investments needed to rapidly build up our manufacturing infrastructure in the sixth medium term. In addition to stabilizing operations and production in areas where results so far have not met expectations, we also plan to continue building on the talents of our personnel, including their technical skills.
Our second challenge is to develop technology that contributes to profitability. To ensure that we can respond to the profound changes expected in the market, we will unite our manufacturing and sales capabilities to speed up PDCA (plan–do–check–act) cycles for the development, manufacture and sale of high-grade steel. Also we ask for renewed focus on developing new processes that help reduce our raw materials costs, which have become more volatile. In summary, the overall emphasis will be on investing in technological strengths to increase high-grade steel sales and/or reduce costs.
The third challenge will be to promote the JFE brand. As manufacturers and distributors continue with their restructurings and consolidations, I don't want us to miss any opportunities to maximize the output of our facilities here in Japan by partnering with these customers and expanding JFE's presence. Commercial production will start at our iron powder joint venture in Shanghai and at the large-diameter welded-steel pipe joint venture in the UAE. In addition, the second blast furnace at Formosa Ha Tinh Steel in Vietnam is scheduled to be blown-in within this sixth term. I want us to make full use of all such opportunities to extend JFE's brand around the globe.
Our fourth and final core challenge is to continue to transfer knowledge and skills, and develop the talents of our people, as major generational shifts occur in Japan. We will use technical experts and IT tools to raise the skill levels of our younger colleagues and to advance the capabilities of our midlevel managers on frontline work sites. The goal is to equip you to lead us into the next era.
Looking Ahead
Addressing our four priority challenges will strengthen JFE as a sustainable global supplier that continues to grow in the future even if the benefits we have enjoyed from an improved global market in fiscal 2017 do not continue. I trust everyone will play their part in this process.
We intend to use IT to improve our management systems and the way we work. Doing so should help to free up time by increasing individual efficiency and productivity. We will introduce tablet devices that will allow people to check operational or technical standards whenever or wherever necessary. We will also introduce IT systems for advanced operations to reduce data organizing burdens, and for profit management to simplify differential analysis. In this regard, I would like everyone to keep the following two key points in mind in 2018.
Firstly, please focus on creativity and maximum added value to help us to continue growing in a fast-changing environment. We need to raise everyone's individual productivity as well as ensure that we're all looking in the same direction to maximize collective results.
Secondly, please also apply these principles in your own work. You need to realize two goals at once – maximizing the value you create while promoting work style reform, without being constrained by conventional ideas. Review the way you work from scratch and focus on high-priority tasks to maximize the value of what you do. Rather than spending too much time on planning and reporting, devote more time to action and improvement. Invigorate your workplace by allocating more time to forward-looking endeavors. Achieving sustainable growth will ensure that JFE Steel continues to be a company in which we can all take pride.
Further to earn the respect and confidence of our families and society, we must create workplaces where all employees can work safely, healthily and actively. Very regrettably, two serious accidents occurred last year and a precious life was lost. In 2018, we intend to improve our record by applying and integrating new methods and ideas developed over the past three years. These measures include interactive patrols, training for managers and executives, accident investigations and safety audits. Please use the PDCA method in the workplace by making full use of second-party audits to recognize and solve problems. Create workplaces that are truly autonomous and independent. Let us be firm in our resolve to eradicate accidents in 2018.
Last year many compliance violations occurred in Japan so trust in Japanese manufacturing could also be questioned. Compliance violations threaten our company's very survival. We must pay strict attention to the basics of safety, accident prevention and compliance. We must not cause accidents or commit violations.
Finally, I wish to reach out to our labor union. As we work to address the many issues I have mentioned and face times of unprecedented change, labor union cooperation will be more essential than ever. We look forward to communicating closely with labor representatives to create a strong corporate framework, and we deeply appreciate labor union support.
In closing, please accept my very best wishes to you and your family for a prosperous 2018!