News Release
JFE Steel's Anti-corrosion Seamless Pipe Deployed in PETRONAS Gas Field— First Commercial Use of JFE-UHP®-17CR-110 —

JFE Steel Corporation
JFE Steel's Anti-corrosion Seamless Pipe Deployed in PETRONAS Gas Field
— First Commercial Use of JFE-UHP®-17CR-110 —
Tokyo, June 26 --- JFE Steel Corporation (JFE Steel) announced today that the deployment of 925 metric tonnes of its JFE-UHP®-17CR-110 oil country tubular goods (OCTG) tubing pipe has been completed by PETRONAS Carigali Sdn Bhd (PCSB), a wholly owned subsidiary of the Malaysian state-owned oil and gas company, PETRONAS.
The tubing was run in the five wells in the NC3 natural gas field located in offshore Sarawak, Malaysia, marking the first commercial deployment of JFE-UHP-17CR-110. The pipe, which has a thickness of 0.408 inches (10.36mm) and an outer diameter of 7 inches (177.80mm), was installed over a one-year period that ended in December 2016.
JFE-UHP-17CR-110 was the preferred choice of PCSB, as it not only offers strength and corrosion resistance comparable to those of duplex stainless steel¹, it also is more cost effective and can be delivered faster.
Duplex stainless steel is conventionally used for tubing in NC3 because the field's depth and corrosive environment require this special tubing to withstand high temperatures and pressures.
JFEBEAR®, JFE Steel's proprietary premium-connection technology for joining OCTG pipe, was used by PCSB to connect individual pipe sections. The technology has an excellent, proven track record of use with a large variety of OCTG materials and fast, trouble-free installation.
PCSB's successful installation of JFE-UHP-17CR-110 tubing in the NC3 field marks a significant milestone in JFE Steel's long history of supplying high-end OCTG pipes for oil and gas projects worldwide.
Going forward, JFE Steel will continue to support the development of global resources and energy through its supply of high-performance, high-quality steel pipes and other steel products.
¹Duplex stainless steel is a high-strength, highly corrosion-resistant stainless steel containing austenite and ferrite, made by adding nickel to high-chrome steel.
"UHP" and "JFEBEAR" are registered trademarks of JFE Steel Corporation in Japan.
NC3 Gas Field Location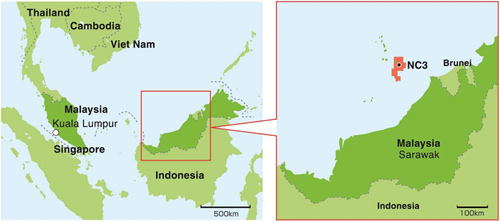 JFE-UHP-17CR-110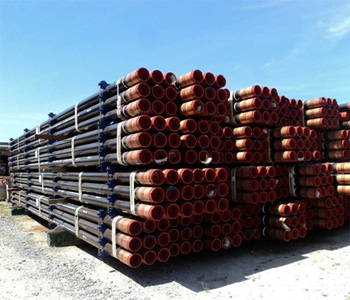 About JFE Steel
JFE Steel Corporation, one of the world's leading integrated steel producers, was established through the consolidation of NKK Corporation and Kawasaki Steel Corporation in 2003. The company operates several steelworks in Japan and numerous branch offices and affiliates throughout the world. JFE Steel leverages world-class technologies and know-how to produce a wide range of products based on its "Only One, Number One" strategy of focusing on unique and best-in-class products. The company reported consolidated sales of 2,445 billion yen and consolidated crude steel output of 29.75 million tons in the fiscal year ended March 2016. For more information, please visit https://www.jfe-steel.co.jp/en.
# # #
For further information, please contact: