News Release
JFE Steel Joint Venture to Begin Construction Work on Byerwen Coal Project in Queensland

JFE Steel Corporation
JFE Steel Joint Venture to Begin Construction Work on
Byerwen Coal Project in Queensland
TOKYO — JFE Steel Corporation announced today that it has agreed with QCoal Pty Ltd to commence construction work on the Byerwen Coal Project in Queensland, Australia. The agreement came after the Queensland State Government last month granted mining leases to Byerwen Coal Pty Ltd, a joint venture company between JFE Steel and QCoal, to develop two tenements in the project. Early stage development will be carried out with the aim to begin shipping coal in early 2018.
The Byerwen mine, which is located in the north-east of Queensland, is expected to primarily produce hard coking coal, a raw material essential for the production of high-quality coke. The size of the mine and favourable conditions for large-scale open-cut mining will help to ensure a cost-competitive product.
Together with QCoal, JFE Steel will work to develop the mine and provide a stable, long-term supply of coking coal, which is expected to help reduce volatility in the coking coal market.
Byerwen Coal Project
| | |
| --- | --- |
| Location: | North-east Queensland, Australia |
| Operating company: | Byerwen Coal Pty Ltd (85% QCoal, 15% JFE) |
| Production plan: | Expand annual production to 10mt |
| Export port: | Abbot Point (approximately 190km from the mine) |
| JFE investment: | From December 2009 |
QCoal Pty Ltd
| | |
| --- | --- |
| Head office: | Brisbane, Queensland, Australia |
| Managing Director: | Christopher Wallin |
| Principal business: | Mining and mineral exploration |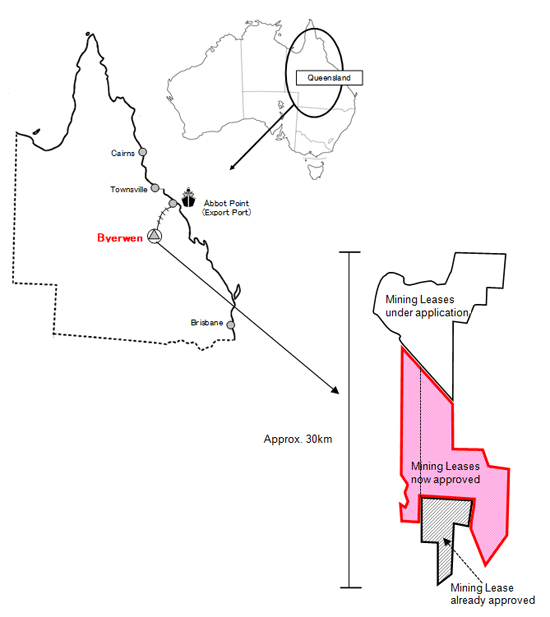 # # #
For further information, please contact: