News Release
JFE Steel Establishes JV in Vietnam to Sell Processed Construction Materials

JFE Steel Corporation
JFE Steel Establishes JV in Vietnam to Sell Processed Construction Materials
Tokyo --- JFE Steel Corporation announced today that together with Mechanization Electrification Construction Corporation – Joint Stock Company (AGRIMECO) it established a joint-venture company in Hanoi, Vietnam to sell processed construction materials on February 17.
Vietnam, the largest steel-consuming country in Southeast Asia, is enjoying gross domestic product growth in excess of 6%, and is forecast to continue growing. The domestic demand for construction materials is expected to remain strong and stable as the country actively expands its roads, railways and other transportation infrastructure, as well as power plants.
JFE Steel's JV partner, AGRIMECO, constructs hydroelectric power plants and steel high-rise buildings and also processes construction materials. The new company, AGRIMECO & JFE STEEL PRODUCTS CO., LTD. (A&J), will sell processed construction materials by leveraging AGRIMECO's strong local presence and JFE Steel's capabilities in technological development and value engineering and value analysis. A&J is the first joint venture that JFE Steel has established with a construction and steel-processing company such as AGRIMECO.
A&J is the JFE Group's latest initiative to expand its involvement with infrastructure-related construction materials outside of Japan, a key medium-term priority for JFE. The group also established GECOSS VIETNAM COMPANY LIMITED in August 2016.
JFE Steel contributes to infrastructure development in Southeast Asia by drawing on diverse advanced technologies from JFE Group companies, including Vietnamese subsidiaries J-Spiral Steel Pipe Co., Ltd. and GECOSS VIETNAM.
AGRIMECO & JFE STEEL PRODUCTS CO., LTD.
| | |
| --- | --- |
| Location: | Hanoi, Vietnam |
| Capital: | USD 2 million |
| Ownership: | JFE Steel 50%, AGRIMECO 50% |
| Business: | Purchase and sale of processed construction materials |
Mechanization Electrification Construction Corporation – Joint Stock Company (AGRIMECO)
| | |
| --- | --- |
| Location: | Hanoi, Vietnam |
| Capital: | 215.0 billion Vietnamese dong (approximately USD 9.5 million) |
| President: | Le Van An |
| Business: | Construction (Hydroelectric power plants, dykes, dams, irrigation and water-storage facilities, steel high-rise buildings and other structures) and machinery manufacturing |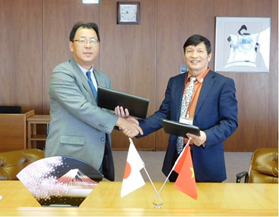 JFE Steel Senior Vice President Shichinobu Nasu (left) and AGRIMECO President and CEO Le Van An
shake hands after signing the joint venture agreement on December 2, 2016
Hydroelectric power plant gate AGRIMECO is constructing
Rendering of steel high-rise building
AGRIMECO is constructing
About JFE Steel
JFE Steel Corporation, one of the world's leading integrated steel producers, was established through the consolidation of NKK Corporation and Kawasaki Steel Corporation in 2003. The company operates several steelworks in Japan and numerous branch offices and affiliates throughout the world. JFE Steel leverages world-class technologies and know-how to produce a wide range of products based on its "Only One, Number One" strategy of focusing on unique and best-in-class products. The company reported consolidated sales of 2,445 billion yen and consolidated crude steel output of 29.75 million tons in the fiscal year ended March 2016. For more information, please visit https://www.jfe-steel.co.jp/en.
# # #
For further information, please contact: