News Release
JFE Steel Holds Official Launch Ceremony for Indonesia's First Continuous Galvanizing Line

JFE Steel Corporation
JFE Steel Holds Official Launch Ceremony
for Indonesia's First Continuous Galvanizing Line
Tokyo – JFE Steel Corporation announced today that its wholly owned subsidiary PT. JFE STEEL GALVANIZING INDONESIA held an official launch ceremony to mark the opening of its continuous galvanizing line (CGL)—Indonesia's first—at its production facility in the MM2100 Industrial Town estate in Bekasi, near Jakarta, on September 15, 2016. The line has been operational since January this year.
The new CGL produces galvanized steel sheet in widths of 800 mm to 1,850 mm and thicknesses of between 0.4 mm and 2.3 mm. Its annual capacity is 400,000 tons.
The ceremony was attended by 300 guests, including Mr. Airlangga Hartarto, Indonesian industry minister, Mr. Yasuaki Tanizaki, Japanese ambassador to Indonesia, and JFE Steel President & CEO Koji Kakigi. After a ribbon-cutting ceremony, dancers performed an ethnic dance to entertain attendees, some of whom participated in a tour of the new plant.
Indonesia, one of the largest automobile producers in Southeast Asia, is a production and export base for many global automakers. The local demand for high-end automotive steel sheet is expected to grow as Indonesia's auto market continues to expand.
JFE Steel, strengthened by its new CGL in Indonesia, looks forward to supporting the expansion plans of automakers by meeting their growing demand for locally procured materials and sophisticated products and services. PT. JFE STEEL GALVANIZING INDONESIA, headed by President Masato Koide, was established in May 2013 and currently employs 204 people.
Official Launch Ceremony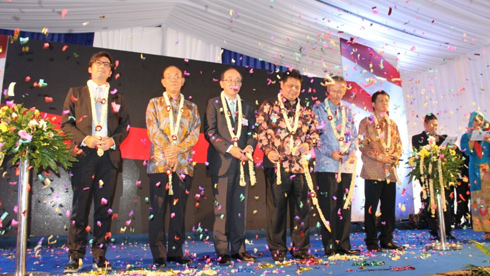 Continuous Galvanizing Line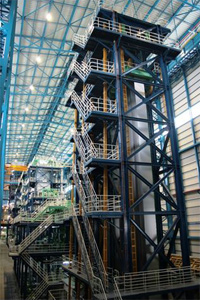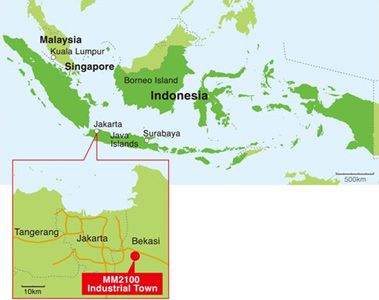 About JFE Steel
JFE Steel Corporation, one of the world's leading integrated steel producers, was established through the consolidation of NKK Corporation and Kawasaki Steel Corporation in 2003. The company operates several steelworks in Japan and numerous branch offices and affiliates throughout the world. JFE Steel leverages world-class technologies and know-how to produce a wide range of products based on its "Only One, Number One" strategy of focusing on unique and best-in-class products. The company reported consolidated sales of 2,445 billion yen and consolidated crude steel output of 29.75 million tons in the fiscal year ended March 2016. For more information, please visit https://www.jfe-steel.co.jp/en.
# # #
For further information, please contact: