News Release
JFE Steel and thyssenkrupp to Cross-license Auto Parts Forming Technologies

JFE Steel Corporation
JFE Steel and thyssenkrupp to Cross-license Auto Parts Forming Technologies
Tokyo – JFE Steel Corporation announced today that it has signed an agreement with thyssenkrupp Steel Europe AG (tkSE), Germany's largest steelmaker, to cross-license advanced forming technologies for automobile steel sheets, including high tensile steel. The two steelmakers will mutually license each other's technologies, including JFE's CP-F™ closed-profile forming technology and tkSE's T3 profiling technology, to automakers and auto component suppliers worldwide. T3 stands for thyssenkrupp Tailored Tubes technology.
Most framework components for automobiles are manufactured by spot welding the flanges of two steel plates that have been press-formed (Figure 1). The new technologies make it possible to form a single sheet of steel into a framework component without flanges (Figure 2). By eliminating flanges, which account for more than 10% of component weight, the method reduces vehicle weight while maintaining body elasticity and collision safety. Such products will help automakers to meet demands to lower vehicle weight for reduced CO2 emissions and energy consumption, but still ensure body elasticity and collision safety.
1. Two parts press formed
2. Parts spot welded
Figure 1. Conventional Process
1. Single steel sheet
formed as frame part
(flangeless forming technology)
2. Joint made with
continuous welding
Figure 2. New Process to Weld Flangeless Part
JFE Steel and tkSE had been separately developing technology to form flangeless components. In 2010, JFE developed its CP-F technology to enable general-purpose pressing machines to form closed-profile components. That technology, however, couldn't ensure stable dimension accuracy when forming components that are bent in a longitudinal direction. Meanwhile, tkSE developed its T3 technology, which uses a special metal mold, called a flexible mandrel, to ensure dimensional accuracy when forming components bent in a longitudinal direction.
Under the new cross-licensing contract, the two steelmakers now will offer customers a combination of technologies that enable general-purpose press machines to stably mass-produce light, highly accurate flangeless components that can be bent longitudinally, such as automobile front pillars.
Front pillar (example of component produced with combined technologies)
JFE and tkSE, following an early agreement for comprehensive cooperation signed in 2002, have conducted joint research and development of auto steel sheets and related technologies. Going forward, the two firms will continue to pursue technological exchanges and joint R&D activities for auto steel sheets.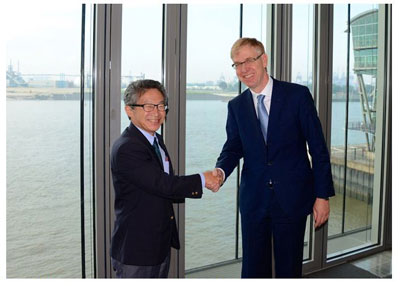 (From left)
JFE Steel Senior Vice President Takafumi Nishiuma and thyssenkrupp Steel Europe Dr. Heribert R. Fischer
thyssenkrupp Steel Europe
Headquarters:
Duisburg, Federal Republic of Germany
Chairman:
Andreas Goss
Annual revenue:
8.6 billion euros (fiscal year ended Sept. 2015)
Main products:
Surface-treatment steel sheet, steel for cans, cold-rolled steel sheet,
hot-rolled steel sheet and others.
About JFE Steel
JFE Steel Corporation, one of the world's leading integrated steel producers, was established through the consolidation of NKK Corporation and Kawasaki Steel Corporation in 2003. The company operates several steelworks in Japan and numerous branch offices and affiliates throughout the world. JFE Steel leverages world-class technologies and know-how to produce a wide range of products based on its "Only One, Number One" strategy of focusing on unique and best-in-class products. The company reported consolidated sales of 2,445 billion yen and consolidated crude steel output of 29.75 million tons in the fiscal year ended March 2016. For more information, please visit https://www.jfe-steel.co.jp/en.
# # #
For further information, please contact: