News Release
Al Gharbia Pipe Company Holds Groundbreaking Ceremony for Large-diameter Welded Steel Pipe Plant in UAE

JFE Steel Corporation
Marubeni-Itochu Steel Inc.
Al Gharbia Pipe Company Holds Groundbreaking Ceremony
for Large-diameter Welded Steel Pipe Plant in UAE
Tokyo --- Al Gharbia Pipe Company held a groundbreaking ceremony on April 13 for a large-diameter welded steel pipe plant in the Khalifa Industrial Zone of Abu Dhabi (KIZAD). The company is a joint venture established by JFE Steel Corporation, Marubeni-Itochu Steel Inc. (MISI) and Senaat GHC, an investment company wholly owned by the government of the Abu Dhabi emirate.
The ceremony was attended by approximately 80 guests, including JFE Steel President Koji Kakigi, MISI President Yasuo Matsuura, Senaat GHC Acting CEO Jamal Salem Al Dhaheri and Al Gharbia Pipe Company Chairman Aqeel A.Madhi. Also in attendance were His Excellency Kanji Fujiki, Japan's ambassador to the United Arab Emirates (UAE), and Kenichiro Hayashi, managing executive officer of the Japan Bank of International Cooperation and global head of their Energy and Natural Resources Finance Group, which is providing financial support for this project. Officials from Abu Dhabi's Department of Economic Development and from several construction companies attended as well.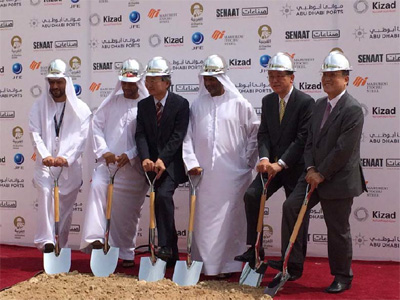 (From right)
MISI President Matsuura, JFE Steel President Kakigi, Al Gharbia Pipe Company Chairman Aqeel, Ambassador Fujiki, Senaat GHC Acting CEO Jamal and Abu Dhabi Ports Company President Mohamed Juma Al Shamsi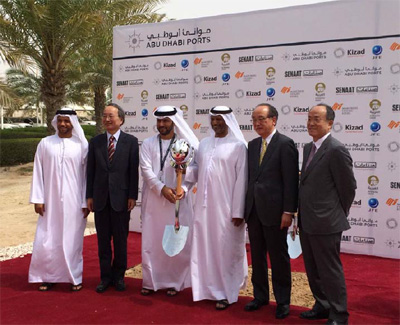 Al Gharbia Pipe Company
Location:
Khalifa Industrial Zone of Abu Dhabi (KIZAD)
Establishment:
May 2015
Total investment:
Approximately USD 300 million
Ownership:
Senaat
51%
JFE Steel
27%
MISI
22%
Products:
Large-diameter steel pipes to transport crude oil and natural gas
Capacity:
Approximately 240,000 tons/year
Employees:
Approximately 370 (planned)
Production start:
October 2018 (planned)
# # #
For further information, please contact: