News Release
Equity Participation in Egypt's Main Manufacturer of Cold-rolled & Coated Steel

JFE Steel Corporation
Marubeni-Itochu Steel Inc.
Equity Participation in Egypt's Main Manufacturer of Cold-rolled & Coated Steel
Tokyo, Japan --- JFE Steel Corporation (Head office: Chiyoda-ku, President: Koji Kakigi) (hereinafter called "JFE Steel") and Marubeni-Itochu Steel Inc. (Head office: Chuo-ku, President: Yasuo Matsuura) (hereinafter called "MISI") announced today that they have acquired a combined 16.5% of the outstanding shares in Kandil Steel, who will undergo further restructures in its enhancements and preparations for prosperous future, Egypt's main manufacturer of cold-rolled and coated steel. As a result, JFE Steel holds 4.4% of the outstanding shares and MISI holds 12.1%.
As the largest steel markets in the Middle East and North Africa, Egypt is expected to continue growing. Cairo-based Kandil Steel was seeking a stable supply of high-quality substrate and technical support to increase its sales of high-grade steel products, while JFE Steel and MISI have been striving to secure stable sales destinations in growing regions and to find opportunities to expand business. JFE Steel and MISI expect the share trade to benefit all three parties.
2015 was 150 years anniversary for Kandil Steel which was founded in 1865. Kandil Steel produces and sells 600,000 tons of cold-rolled, hot-dip galvanized and colour-coated steel sheets every year, and enjoys the largest market share in Egypt for each. These steel sheets are mainly used in Home Electrical Appliances, Electrical Industries, Commercial Automotive production and building materials.
JFE Steel has been working with Kandil Steel since JFE Steel (formerly known as Kawasaki Steel Corporation) supplied a cold-rolling line to Kandil Steel in 2000. JFE Steel afterwards continued and expanded to provide steel to Kandil Steel through MISI and strengthened the relationship among them.
Going forward, JFE Steel and MISI will continue to work with Kandil Steel to develop new markets and capture demand for high-grade steel in Egypt where steel demand is expected to grow rapidly.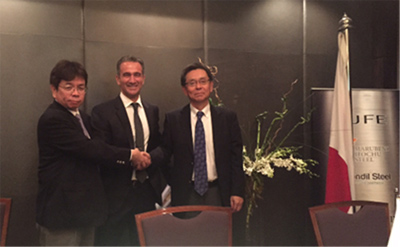 (From left)
MISI Toshihiko Takahashi, Kandil President Amr Kandil and JFE Steel Vice President Manabu Umakoshi shaking hands
Kandil Steel (S.A.E.)
| | |
| --- | --- |
| Head office: | Cairo, Egypt |
| Founded: | 1865 |
| Incorporated: | 1997 |
| Business: | Producing and selling cold-rolled steel, hot-dip galvanized steel and color-coated steel |
| Employees: | Approximately 1,000 |
| President: | Amr Kandil |
| Capital: | 315 million Egyptian pounds (approximately 5,182 million yen) |
| Facilities: | Pickling line (720,000 metric tons) |
| (annual capacity) | Cold-rolling line (613,000 metric tons) |
| | Anneal line (234,000 metric tons) |
| | Hot-dip galvanizing line (408,000 metric tons) |
| | Color-coating line (60,000 metric tons) |
Head office of Kandil Steel

# # #
For further information, please contact: