News Release
Starts up Continuous Galvanizing Line for Autos in Indonesia

JFE Steel Corporation
JFE Steel Starts up Continuous Galvanizing Line for Autos in Indonesia
Tokyo --- JFE Steel Corporation announced today that its wholly owned subsidiary PT. JFE STEEL GALVANIZING INDONESIA has begun operating a new continuous galvanizing line (CGL) to produce cold-rolled and hot-dip galvanized steel sheet for automobiles in the MM2100 Industrial Town estate in Bekasi, near Jakarta. With the startup, which was realized two months ahead of schedule, the JFE Steel subsidiary plans to conduct test production to obtain approvals from customers before commencing commercial operation of Indonesia's first CGL.
The line, which has a capacity of 400,000 tons per year, will produce galvanized steel sheet in widths of 800 mm to 1,850 mm and thicknesses of between 0.4 mm and 2.3 mm. The new line is JFE Steel's third CGL for automotive products in Asia, following China and Thailand. JFE Steel also provides its Indian partner JSW Steel with CGL manufacturing technology.
Indonesia, Southeast Asia's second largest automobile producer, is a production and export base for many global automakers. The local demand for high-end automotive steel sheet is expected to grow as Indonesia's auto market continues to expand.
JFE Steel is contributing to the growth of Asian steel industries by leveraging its world-class technologies to respond to automakers' needs for local procurement and increasingly sophisticated products.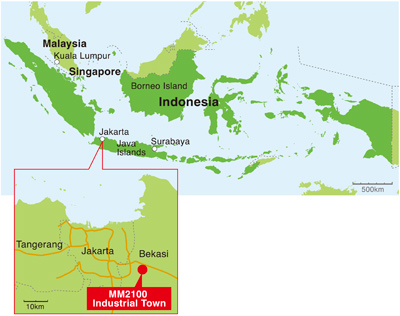 # # #
For further information, please contact: