News Release
JFE Steel Develops Forming Technology for Parts with Complex Shapes

JFE Steel Corporation
JFE Steel Develops Forming Technology for Parts with Complex Shapes
Tokyo --- JFE Steel Corporation announced today that it has developed new technology to form steel into complex shapes that are not possible with conventional stamping. Normally, a steel part is formed first into a rough shape and then into its final-product shape, but the new technology uses CAE analysis to form a more optimized shape in the first phase before producing the final shape, helping to eliminate defects, improve product performance and design flexibility, and lower weight. The technology is widely suitable for everything from mild steel to super-high-tensile strength steel.
To demonstrate the effectiveness of the new technology, JFE Steel formed an automobile's steel rear hatch with an integrated spoiler. Spoilers, which are used to control airflow and improve visibility in rain, usually are produced as a separate part that is made of plastic and must be attached to the hatch (see Figure 1). The new technology, however, makes it possible to form a hatch that is seamlessly integrated with a spoiler, thereby avoiding the more costly conventional method (Figures 2 and 3).
Going forward, JFE Steel expects to collaborate with customers in joint research aimed at applying the new technology toward the production of a variety of commercial products.
Figure 1: Conventional and new technologies
(a) Conventional technology
(b) New technology (two-phase stamping)
1st phase: optimized shape
2nd phase: product shape
Figure 2: Steel tear hatch production
(a) Conventional rear hatch
(b) New rear hatch with integrated spoiler

Figure 3: Trial product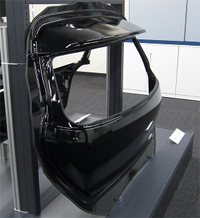 # # #
For further information, please contact: