News Release
JFE, Other Investors Complete Iron-ore Mining Business Merger in Brazil

JFE Steel Corporation
JFE, Other Investors Complete Iron-ore Mining Business Merger in Brazil
Tokyo – JFE Steel Corporation announced today that together with the six other investors in Brazilian iron-ore mining company Nacional Minerios S.A. (NAMISA), it executed procedures of NAMISA's merger with the mining and logistic assets of Companhia Siderurgica Nacional (CSN), one of the investors, to form a new and more comprehensive Brazilian iron-ore mining business, Congonhas Minerios S.A., on November 30.
The merger follows JFE Steel's announcement on November 25, 2014 that NAMISA's five other Asian investors and JFE had agreed with CSN to the merger plan. The five other Asian investors are Itochu Corporation, Kobe Steel, Ltd. and Nisshin Steel Co., Ltd. of Japan, POSCO of South Korea and China Steel Corporation (CSC) of Taiwan. At the time, a consortium formed by the six Asian companies held a combined 40% stake in NAMISA, of which JFE Steel effectively owned an 8.64% stake.
Based on the merger, Congonhas Minerios has absorbed the Asian consortium's 40% stake and CSN's 60% stake in NAMISA, as well as CSN's Casa de Pedra Mine and its shares in a railway company and port-facility usage rights.
In parallel with the merger, JFE Steel has sold part of its indirect stake in the merged company to CSN, thereby reducing its stake to approximately 2%.
Casa de Pedra Mine is one of the largest and highest-quality iron-ore mines in the world. The combination of its high-grade resources and fully integrated logistics establishes this project as a highly competitive undertaking within the global mining industry.
JFE Steel will continue participating in mining operations in Brazil to ensure its access to stable, long-term supplies of high-quality iron ore.
Congonhas Minerios
Location:
Minas Gerais, Brazil
Business:
Producing and selling iron ore
Shareholders:
Companhia Siderurgica Nacional and the consortium formed by Itochu Corporation, JFE Steel Corporation, Kobe Steel, Ltd., Nisshin Steel Co., Ltd., POSCO and CSC.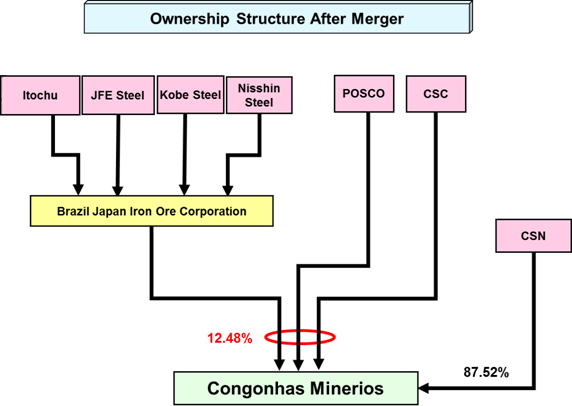 # # #
For further information, please contact: