News Release
JFE Steel Installs Next-generation Vending Machines to Earn Donations for East Africa and to Strengthen Disaster Preparedness in Japan

JFE Steel Corporation
JFE Steel Installs Next-generation Vending Machines to Earn Donations for East Africa and to Strengthen Disaster Preparedness in Japan
Tokyo --- JFE Steel Corporation announced today that its head office in Tokyo has installed next-generation vending machines that will generate donations to East Africa nations and help to strengthen disaster preparedness at the company's head office in Tokyo.

Republic of Uganda Ambassador Betty Grace Akech-Okullo attended a ceremony to mark the installation of the multipurpose vending machines at JFE Steel's head office today. The ceremony was also attended by JFE Steel President and CEO Koji Kakigi. Ambassador Akech-Okullo handed Kakigi a letter of appreciation for donations to East African nations that will be made possible by the vending machines, which are located on the 23rd and 30th floors of the building.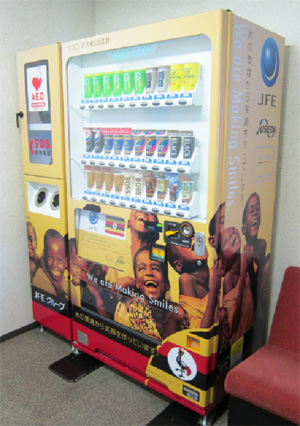 The vending machines were developed at the initiative of Techno Trading, a Japan-based recycling solutions provider.

Ten percent of the sales proceed will be donated via the Japan-Uganda Social & Economic Development Association (JUSEDA) to aid organizations including the United Nations Children's Fund (UNICEF), Red Cross and Save the Children. The money will be used for initiatives including making improvements in the supply of good-quality drinking water to children and epidemic-prevention facilities.

The vending machines also feature several unique functions for disaster preparedness, including the free dispensing of drinks in the event of a disaster, an automated external defibrillator (AED) and a satellite phone for emergency communication even if the local phone networks were to become inaccessible during a disaster.

Going forward, JFE Steel expects to install more next-generation vending machines, including at the company's steel works. JFE looks forward to increasing its contributions to the quality of life in East Africa, as well as improving disaster preparedness in Japan, by adding more vending machines in the coming future.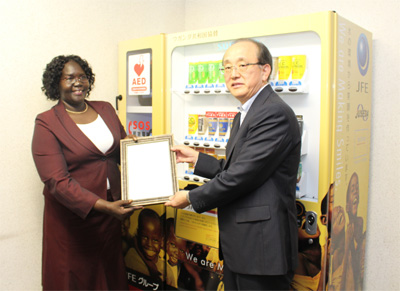 # # #
For further information, please contact: