News Release
January 6, 2015
JFE Steel Corporation
2015 New Year's Message to Employees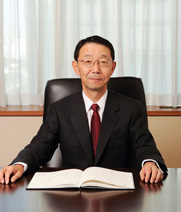 May I wish you "Happy New Year" as we start 2015!
Although the consumption tax hike among other factors limited growth to some extent in 2014, steel demand in Japan remained robust. Last year was the final year in JFE Group's fourth medium-term business plan and the entire company worked steadily to achieve the goals we set, including gaining strength at the shop-floor level. As a result, we expect to report growth in profit for the second straight year. I would like to offer my sincere thanks to everyone at JFE Steel and other JFE Group companies, and at our partner companies, for their dedication and commitment.
We were not as successful in achieving all our goals and the target of achieving a 10% ratio of ordinary income to net sales ratio was not reached. This result reflects a number of risk factors that remain in spite of robust demand overall. Excessive supply in the global steel market, due partly to sluggish demand in China, is an ongoing challenge we face. Shortages of labor and building materials have limited steel demand especially in the construction sector and rising electricity prices are an example of factors pushing up costs.
With these opportunities and challenges in mind, JFE Steel intends to accelerate its efforts to improve profitability under the JFE Group's fifth medium-term business plan starting in April 2015. We must work as one to make this first year of the new plan successful.
Key Challenges in 2015
Although we will implement a new plan, our longer-term goals remain the same. We intend to continually reinvent ourselves as a global steel supplier that creates new value as we grow with our customers. Our three basic principles are:
Expand globally and focus on customers to enhance JFE brand value
Coexist harmoniously with the global environment and build mutually beneficial relationships with local communities
Ensure that know-how and technologies are passed on to future generations of JFE employees
Please keep sight of these principles as you work towards our goals with ambition, enthusiasm and initiative.
This year, JFE Steel, together with its group companies, must address four key issues.
The first is comprehensively strengthening manufacturing bases to ensure cost competitiveness.
In an increasingly global playing field, we need to establish strong production infrastructure at each production base to provide the foundation for competitiveness. Especially at steelworks and plants in Japan, we must begin realizing the benefits of completed investments to stabilize production at an early date, and continue to invest in replacing outdated and aging facilities. By leveraging this infrastructure and translating innovation into concrete results, further cost reductions can be achieved to help us be more competitive globally.
The second issue is enhancing initiatives to develop and promote products that meet customer needs more precisely, or that generate new demand.
Rivals in emerging economies are closing the gap with us in terms of technology, and competition from non-steel materials is intensifying. To maintain a sustainable business, all divisions, including sales, research and manufacturing, must work together to carefully identify and satisfy customer needs. By working closely with customers, we can develop products and services tailored to their diverse requirements in a timely manner. At the same time, we must be proactive in offering value that enables us to grow together with them.
The third is constantly promoting the JFE brand by leveraging our strengths, including our cost competitiveness and product development.
There are mutual benefits to be gained by a more customer-oriented mindset. Furthermore, we can enhance the JFE brand by strengthening strategic ties within our global group. In this regard, I have high expectations for high-quality products from JFE Steel Galvanizing (Thailand) Ltd., which is increasing production with the continuous galvanizing line (CGL) it began operating in 2013, and for PT. JFE Steel Galvanizing Indonesia, with its CGL now under construction. By steadily implementing the global strategies of our new business plan, I believe our enhanced JFE brand will drive growth in Japan and overseas.
The fourth and final issue is continuing to develop and equip our younger employees by transferring our skills to them.
The most crucial factor in achieving continuous growth and enhancing the JFE brand is the quality of our human resources. Without talent companies cannot grow. Considering the changing nature of our workforce as more experienced workers retire in larger numbers over the next few years, we have an urgent need to develop our younger employees. In addition, we must enhance our own individual skills by making best use of the horizontal links between departments and companies and the vertical flows of knowledge and skills from superiors to subordinates and from seniors to juniors. Human resource development and skills transfer must be top priorities, along with diversifying our workforce by enabling female and non-Japanese employees to contribute fully.