News Release
California Steel Industries Begins Operation of Second ERW Steel Pipe Mill

JFE Steel Corporation
California Steel Industries Begins Operation of Second ERW Steel Pipe Mill
Tokyo – JFE Steel Corporation announced today that California Steel Industries, Inc. (CSI) began operation of its No. 2 electric-resistance-welded (ERW) steel pipe mill on CSI's site near Fontana, California. CSI will leverage the new facility to satisfy growing demand for high-end steel pipes from energy-related industries. JFE Steel holds a 50% stake in CSI.
The addition of the new mill will more than double the company's annual ERW steel pipe production capacity from the current 250,000 short tons* (st) to 650,000 st. The new facility will expand the largest outer diameter possible from the current 16 inches to 24, as well as enabling increased wall thicknesses and improved yields. The mill, which began producing pipe in August, is slated to begin commercial production in October.
CSI held an opening ceremony for the No.2 ERW steel pipe mill on September 26, which also marked the company's 30th anniversary. There were 280 people in attendance, including US Representative Gloria Negrete McLeod, Consul-General Hidehisa Horinouchi of the Consulate General of Japan in Los Angeles, and JFE Steel Senior Vice President Hiromu Oka.
Growing global demand for energy is urging developers to explore more sources, including natural gas and petroleum buried in diverse regions and environments. JFE Steel and CSI continue to contribute to the development of energy resources worldwide through the supply of superior quality steel pipes.
*1 short ton is equivalent to 0.9072 metric tons.
No. 2 Electric-resistance-welded Steel Pipe Mill
| | |
| --- | --- |
| Annual capacity: | 400,000 st |
| Commercial operation: | Scheduled for October 2014 |
California Steel Industries, Inc.
| | |
| --- | --- |
| Establishment: | 1984 |
| Location: | Fontana, California |
| President and CEO: | Toshiyuki Tamai |
| Capital: | USD 40 million |
| Revenue: | USD 1,307 million (2013) |
| Ownership share: | JFE Steel Corporation (50%), Vale (50%) |
| Business: | Production and sales of steel products |
| Facilities: | Hot-rolling mill (3 million st) |
| (annual capacity) | Cold-rolling mill (1.1 million st) |
| | 2 galvanizing lines (450,000 st and 250,000 st) |
| | No.1 ERW steel pipe mill (250,000 st) |
| | New No. 2 ERW steel pipe mill (400,000 st) |
Toshiyuki Tamai, president and CEO of California Steel Industries, at the opening ceremony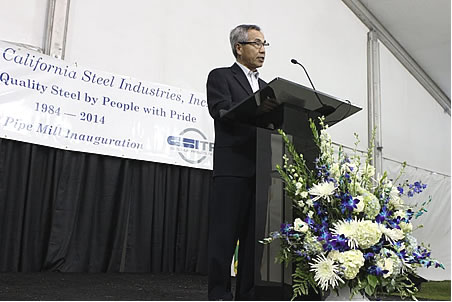 No. 2 Electric-resistance-welded Steel Pipe Mill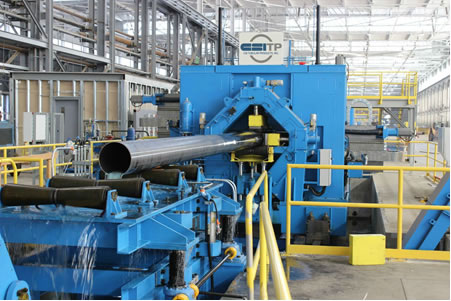 # # #
About JFE Steel
JFE Steel Corporation, one of the world's leading integrated steel producers, was established through the consolidation of NKK Corporation and Kawasaki Steel Corporation in 2003. The company operates several steelworks in Japan and numerous branch offices and affiliates throughout the world. JFE Steel leverages world-class technologies and know-how to produce a wide range of products based on its "Only One, Number One" strategy of focusing on unique and best-in-class products. The company reported consolidated sales of 2,691 billion yen and consolidated crude steel output of 31.58 million tons in the fiscal year ended March 2014. For more information, please visit https://www.jfe-steel.co.jp/en.
For further information, please contact: