News Release
Brazil's Petrobras Awards 280 MT OCTG Order to JFE Steel — First Contract to Supply JFE-UHP-17CR-110 Highly Corrosion-Resistant Seamless Pipe —

JFE Steel Corporation
Brazil's Petrobras Awards 280 MT OCTG Order to JFE Steel
— First Contract to Supply JFE-UHP-17CR-110 Highly Corrosion-Resistant Seamless Pipe —
Tokyo --- JFE Steel Corporation announced today that together with Metal One Corporation it has received an order for 280 metric tons of JFE-UHP-17CR-110 OCTG pipe for casing1 from Brazil's national oil company, Petróleo Brasileiro S.A. (hereafter: Petrobras), to be used on Petrobras's offshore oil development project in Brazil. This is the first order received for JFE-UHP-17CR-110, a newly developed grade that boasts higher corrosion resistance. This OCTG - with a thickness of 13.84 mm and an outer diameter of 9.625 inches (244.4 mm) - have been produced and shipped at JFE's Chita Works.
This project aims to extract oil from the "pre-salt"2 layer, which lies 3,000–4,000 meters under the bottom of the ocean waters by Brazil. Since the pre-salt environment is under high corrosion senario, high-end and expensive duplex stainless3 OCTG was mostly used in the past.
JFE-UHP-17CR-110 pipe, which JFE Steel developed, has greater superiority in corrosion resistance than JFE-UHP-15CR, which is also strong and corrosion- and temperature-resistant. In addition, this pipe costs less and has a shorter lead-time than duplex stainless OCTG.
To connect these casings, JFELION - the latest JFE proprietary premium connection, with unique seal geometry - will be used.
This is the very first commercial order for JFE-UHP-17CR-110. JFE Steel's many years of supplying high-end OCTG to various oil and gas projects worldwide, its high quality and reliability, and cutting-edge pipe production technology led to this order.
JFE Steel continues to contribute to the development of resources and energy worldwide through the supply of high-performance, high-quality steel pipes and other steel products.
Casing pipe is inserted into the underground hole (including sea bottom) during the drilling of oil/gas wells to serve as a solid outer shell that protects OCTG from external pressures.
The geological layers that were laid down before a salt layer on the continental shelves.
Duplex stainless steel is a high-strength, highly corrosion-resistant stainless steel consisting of a dual phase structure of austenite and ferrite produced by adding a suitable quantity of nickel (Ni) to high-chrome (Cr) steel.
* "UHP" is a registered trademark of JFE Steel Corporation in Japan.
Outline of Petrobras
Established in 1953; a semi-public Brazilian multinational energy corporation and the largest company in the Southern Hemisphere by market capitalization.
Revenue: Approximately US$141.4 billion in 2013
Net Income: Approximately US$10.8 billion in 2013
Location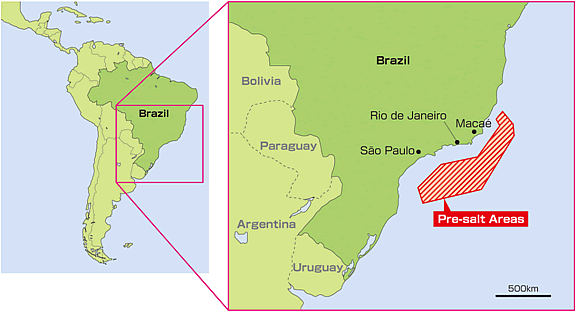 JFE-UHP-17CR-110
# # #
For further information, please contact: