News Release
JFE Steel HIPER® Earthquake-resistant Linepipe Engineers Win 2014 Okochi Award

JFE Steel Corporation
JFE Steel HIPER® Earthquake-resistant Linepipe Engineers Win 2014 Okochi Award– Fifth Straight Year for JFE Steel Personnel to Receive Okochi Memorial Award –
Tokyo --- JFE Steel Corporation announced today that five engineers responsible for developing the company's HIPER® earthquake-resistant linepipe offering exceptionally high buckling strain capacity were presented the 60th Okochi Memorial Technology Award by the Okochi Memorial Foundation in a ceremony in Tokyo, Japan on March 26. This is the fifth straight year in which JFE Steel engineers have been presented an award by the Okochi Memorial Foundation.
The JFE Steel awardees were:
Seishi Tsuyama, General Superintendent, Steel Research Laboratory
Shigeru Endo, General Manager, Steel Products Research Dept., Steel Research Laboratory
Nobuyuki Ishikawa, Senior Researcher, Steel Products Research Dept., Steel Research Laboratory
Joe Kondo, Staff General Manager, Plate Business Planning Dept.
Ryuji Muraoka, Staff Manager, Welding Pipe Sec., Products Design & Quality Control for Steel Products Dept., West Japan Works (Fukuyama)
Linepipes that run through areas prone to earthquakes or permafrost need to be highly resistant to buckling caused by diastrophism. To tackle this challenge, JFE Steel developed HIPER®, a high-strength linepipe that is extra-resistant to buckling. The product incorporates advanced materials-design technologies and unique steel production processes incorporated at JFE Steel's West Japan Works, namely HOP®, a heat-treatment on-line process, and Super-OLAC®-A, an on-line accelerated cooling process. Compared with conventional products, HIPER® features much thinner walls and but equivalent strength, thereby cutting pipeline construction costs while improving integrity. HIPER® is now used for many pipelines in quake zones or permafrost zones.
Going forward, JFE Steel will continue to support worldwide resource and energy development with high-performance, high-quality steel pipes and other steel products, focusing on innovation and product development to meet exacting customer needs.
The Okochi Memorial Foundation is headed by Hiroyuki Yoshikawa, director-general of the Center for Research and Development Strategy of the Japan Science and Technology Agency. Every year, the foundation presents technology awards to recognize engineers for noteworthy inventions and remarkable achievements in industrial engineering and production technology.
Award ceremony at Industry Club of Japan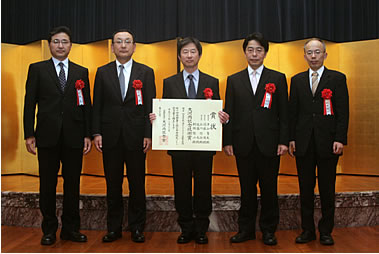 Laying HIPER® earthquake-resistant linepipe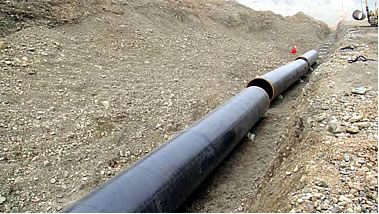 # # #
For further information, please contact: