News Release
January 6, 2014
JFE Steel Corporation
2014 New Year's Message to Employees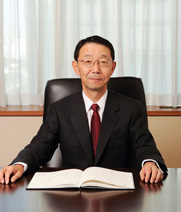 Happy New Year and greetings at the start of 2014!
The economic environment in Japan took a favorable turn last year, thanks to an adjustment of the yen's excessive appreciation, the government's emergency economic stimulus package and an acceleration of market demand prior to the upcoming hike in the consumption tax. Domestic steel demand remained strong in sectors such as construction and automobiles. Overseas, the debt crisis in Europe persisted and many emerging economies continued to decelerate. In view of sluggish demand growth due to stagnant economic activity, as well as the impending startup of new steel plants in certain areas of Asia, steel supply is expected to remain in surplus in the global market for some time to come. The Japanese steel industry will continue to face a challenging environment, recognizing that demand in the robust domestic market will likely slow once the consumption tax rate is raised.
Last Year's Efforts
In 2013, the second year of our fourth medium-term business plan, we continued striving to improve the profitability of operations in Japan achieving stronger cost competitiveness. With combined efforts by JFE Steel and other JFE Group companies and partners, a cost reduction of some 100 billion yen is expected in the fiscal year ending March 2014. Achieving a cost reduction of more than 100 billion yen for a second straight year should help significantly, but our profitability is still far from satisfactory so we need further improvement. To that end, we must fully leverage the benefits of enhanced efforts to strengthen our production base in Japan.
As two examples of how we are steadily globalizing our company, our wholly owned subsidiary JFE Steel Galvanizing (Thailand) started up a continuous galvanizing line (CGL) for automobiles on schedule, and JFE Steel Galvanizing Indonesia, another wholly owned subsidiary, began constructing its own CGL for automobiles.
Key Challenges in 2014
Given that the outlook for 2014, the final year of our current medium-term plan, is not optimistic, we must strengthen efforts to achieve our goals under this plan. We also must lay the foundation for growth and development over the next 10 years, starting with our next, or fifth, medium-term business plan. This undertaking will be our second major challenge since the founding of JFE, when we were initially challenged with the task of integrating our predecessor companies.
JFE Steel, together with its group companies around the globe, must address three key issues to ensure future growth and development.
The first is to fully strengthen our manufacturing base to improve our steel works in Japan as the most basic element of our competitiveness. If we are to surpass our domestic and global rivals, it is imperative that our employees and facilities perform at the highest levels, and the quality we offer is the highest attainable. Allocating the corporate resources necessary to achieve these outcomes and steadily raising productivity are key prerequisites. We must nurture younger employees and transfer skills as part of our efforts to improve workforce competence. Given the high priority of enhancing human resources, we are appointing technical experts and reviewing our training schemes. I encourage trainers and trainees alike to seriously consider the high importance of handing down skills to the next generation.
The second issue is to comprehensively enhance our brand. If "JFE" is not the brand of choice of customers, both in Japan and overseas, we won't survive the severe competition facing us. So, we must focus our strategies on customers and give higher priority to communication with them. The needs of customers must be grasped in order to develop appealing, cost-competitive products useful now and into the future. Also, our service and support systems must work together more effectively from negotiations and design to production, delivery and quality assurance. Employees in every department, including sales, research and manufacturing, must work as one and focus on the customer.
The third is to steadily implement overseas business strategies by anticipating the direction the market is moving. First, we need to produce tangible results from our initiatives overseas and then relentlessly pursue new opportunities to capture global demand. Please remember that our future battlefields are worldwide, not just in Japan.
Things to Bear in Mind
There are two especially important things to bear in mind.
Firstly, as I have said many times as president, aim high and work with enthusiasm. We have infinite creativity despite our limited resources, but you can't fully exercise creativity without these two work habits so please take this advice to heart as you tackle new challenges with my full encouragement.
Secondly, always consider how to improve your current ways of doing business and the systems you use. JFE Steel was established more than a decade ago, so I assume that some of our corporate culture, systems and ways of doing things may have become obsolete. All personnel, including me, need to bear the need for constant improvement in mind as we do our work.
In Closing
Safety is the basic precondition for all our activities. Everyone in every workplace needs to realize that safety is our top priority each and every day. Even when others are not watching, you need to act autonomously and make safety your main concern. Doing so creates a workplace where people can share and nurture a sense of trust. In addition, implementing the PDCA cycle requires communication not only among JFE Steel employees, but among all people present at the workplace. Check to make sure your instructions and requests are fully understood. If you are not sure, then discuss it until you are certain no problem remains.
And finally, I would like to address our labor union.
In this continuously harsh business environment, overcoming hurdles and addressing challenges requires the cooperation of our labor union. Labor and management must communicate closely to ensure that our workplaces remain truly safe and strong. To that end, management sincerely requests the union's cooperation.
These are my thoughts on the dawn of this new year. Very best wishes to you and your family for a prosperous 2014!