News Release
JFE Steel, KSP Steel and Marubeni-Itochu Steel Sign MoU to Strengthen Partnership

JFE Steel Corporation
KSP Steel LLP
Marubeni-Itochu Steel Inc.
JFE Steel, KSP Steel and Marubeni-Itochu Steel Sign MoU to Strengthen Partnership
Tokyo --- JFE Steel Corporation (JFE), KSP Steel LLP (KSP) and Marubeni-Itochu Steel Inc. (MISI) announced today their signing of a memorandum of understanding to discuss how to strengthen their partnership in the steel industry of Kazakhstan and neighboring countries. The MOU was signed yesterday during The 4th Meeting of the Joint Commission of Government and Private Sectors of Japan and Kazakhstan on Economic Cooperation in Tokyo, Japan.
The three companies will discuss potential opportunities concerning technology, sales and materials supply related to the provision of advanced, high-quality steel pipe for resource and energy development.
Prior to this agreement, JFE agreed to license its JFEBEARTM technology to KSP in October 2012. JFEBEARTM, classified as a premium joint, is used for connecting oil-country tubular goods (OCTG) utilized in drilling extra-deep, high-deviation wells into high-pressure reservoirs.
Kazakhstan has been accelerating its development of oil and gas fields in environments containing corrosive hydrogen sulfide, requiring the use of high-quality OCTG. KSP, a Kazakhstani seamless steel pipe manufacturer operating since 2007, is now poised over to introduce JFE's JFEBEARTM technology to provide higher-quality OCTG products to users in Kazakhstan. JFE, in addition to assisting KSP by licensing this technology, will undertake various initiatives to meet customer demands in Kazakhstan.
KSP Steel LLP
General Director:
Eduard Kreimer
Headquarters:
Almaty, Kazakhstan
Plants:
Pavlodar, Kazakhstan
Established:
2007
Business:
Manufacturing and sale of seamless steel pipe
Employees:
7,500
Equipment:
Electronic furnaces (800,000 tpy capacity), seamless steel pipe production facilities
(270,000 tpy capacity), threading facilities, etc.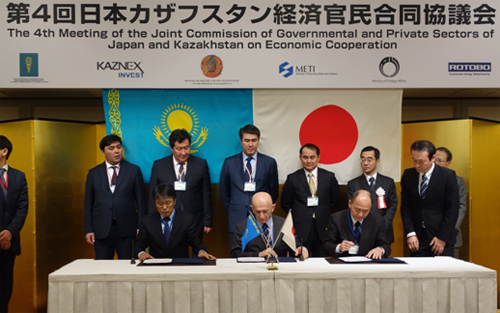 (From left,
Mr. Tomohito Kaneda, Executive Officer, Tubular Products Div., MISI,
Mr. Eduard Kreimer, General Director, KSP and
Mr. Mitsuru Anezaki, General Manager, Energy Industry Steel Products Export Dept., JFE)

# # #
For more information about this release, please contact: