News Release
JFE Steel to Supply 23,000T of Pipes for Mozambique Gas Pipeline Project– X70-grade 26" OD ERW Pipes for Mozambique –

JFE Steel Corporation

JFE Steel to Supply 23,000T of Pipes for Mozambique Gas Pipeline Project
– X70-grade 26" OD ERW Pipes for Mozambique –
TOKYO - JFE Steel Corporation announced today that together with Marubeni-Itochu Steel Inc. it has received an order from ROMPCO Lda duly represented by Sasol Technology Pty Ltd. (Sasol), for 23,000 tons of API 5L X70-grade high-strength electric-resistance-welded (ERW) steel pipe.
JFE Steel's advanced pipes will be used for the ROMPCO Loop Line Project operated by ROMPCO. The project will accommodate increasing demand in Mozambique by transporting natural gas produced locally to consumers. The first phase of the project will start transporting gas in July 2014.
Approximately 130km of *looping pipelines will be installed in the first phase of the project to supply natural gas from Temane to Ressano Garcia, which is north west of Maputo.
JFE Steel supplied approximately 100,000 tons of 26" OD ERW pipes to Sasol from 2001 to 2002. Based on this experience, Sasol highly evaluates JFE Steel's advanced pipes and cutting-edge technology for assured supply of quality products.
JFE Steel is continuing to contribute to the development of resources and energy worldwide through the supply of high-performance, high-quality steel pipes and other steel products.
*Looping pipeline: Pipeline installed in parallel with existing pipeline for the entire or partial length to increase transportation capacity.
Sasol Ltd.
Established:
1950
Business:
Resource extraction and chemical-related activities
Headquarters:
Johannesburg, Republic of South Africa
Sales revenue (2011):
ZAR 142,436 million
Net profit (2011)
ZAR 20,220 million
JFE Steel's API X70-grade ERW Steel Pipe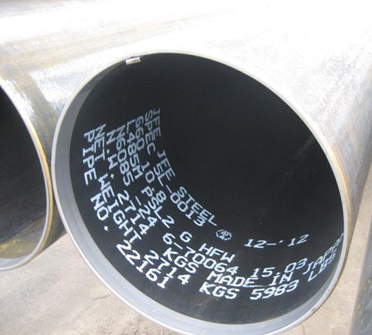 # # #
For more information about this release, please contact: