News Release
JFE Launches Oxidation- and Corrosion-resistant Coated Steel Sheet for Hot Press Forming

JFE Steel Corporation

JFE Launches Oxidation- and Corrosion-resistant Coated Steel Sheet for Hot Press Forming
TOKYO - JFE Steel Corporation announced today the launch of JAGTM (JFE Advanced Guard), an excellent oxidation- and corrosion-resistant coated steel sheet for hot press forming that reduces the weight of automotive structural parts. JFE Steel has been developing a variety of high strength steel sheets with excellent formability for the conventional press forming. With the addition of JAGTM to its product lineup, JFE Steel, a comprehensive manufacturer of high-tensile-strength steel sheets for automobile, now expands into the field of hot press forming.
JAGTM can significantly increase the productivity of hot forming operations due to its physical characteristics such as not only de-scaling free after hot forming but also shortening the holding time at heating and rapid heating by electrical heating etc., Manufacturing customers have already begun considering the adoption of JAGTM for their vehicle production operations.
Heating Pattern During Hot Pressing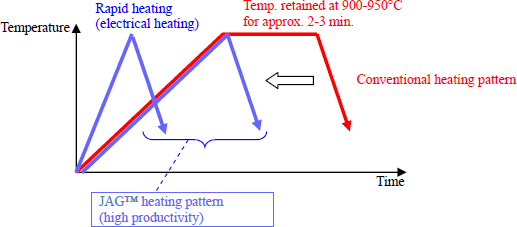 Structural Auto Part Processed with JAGTM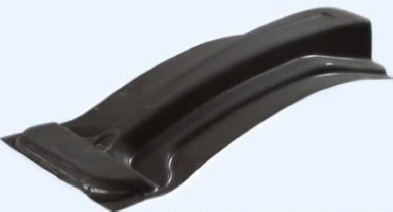 Higher-tensile-strength steel sheet is required both to enhance safety and to reduce the weights of vehicles which enables automakers to improve fuel efficiency. The hot forming method, which achieves strength of more than 1500MPa, as well as greater formability, increasingly is being used alongside conventional cold press forming.
In hot forming, a heated steel sheet is pressed and quenched at the same time. If uncoated steel sheet is used, scales that can occur during hot forming must be removed through additional processing, such as shot blasting. Conventional coated hot press forming materials can be used to protect from scales at heating, but they exhibit less corrosion resistance than ordinary coated materials due to surface oxidation during hot forming. JFE Steel has solved these problems with JAGTM, an excellent oxidation- and corrosion-resistant coated steel sheet.
# # #
For more information about this release, please contact: