News Release
January 4, 2012
JFE Steel Corporation
2012 New Year's Message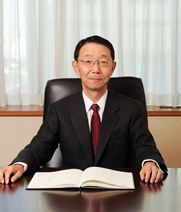 2012 New Year Message to Group Employees
New Year's Message in 2012 Eiji Hayashida, President and CEO, JFE Steel Corporation
Happy New Year! It is my pleasure to address you with some remarks as we start 2012.
2011 was a particularly challenging year. The unprecedented scope of damage caused by the Great East Japan Earthquake means that some 10 months after the disaster, many people are still facing difficulties and disruption in their everyday lives. I would like to reiterate my sincere sympathy to everyone affected.
JFE Steel and some of our group companies also suffered severe damage. Although we had no alternative but to abandon restoring operations at Tohoku Steel Corporation, by the end of the year we had successfully normalized operations throughout most of our group, so I would like to express my deep respect and gratitude to all the people who made this rapid recovery possible.
In 2011, the start of the final year of our third medium-term business plan, JFE Steel continued to strengthen its production base and take steps to genuinely globalize operations. We achieved our goal of non-consolidated crude steel capacity of 33-million tons a year by revamping and blowing-in our Fukuyama No. 3 blast furnace. In addition, we continued to implement preventative measures to achieve more stable operations and eliminate accidents based on lessons learned in previous incidents.
Efforts to globalize our organization further included wider expansion of our overseas sales bases, the conclusion of additional alliance agreements, and other business development - mainly in the fast-growing Asian markets. Specific examples include starting up a new cold rolling mill at Guangzhou JFE Steel Sheet in China, launching construction of a continuous galvanizing line in Thailand, and undertaking various initiatives through our strategic alliance with JSW Steel in India. We will continue our endeavors to secure new growth and expand our presence in international markets.
Regarding the current business environment, although there are prospects for increased demand due to reconstruction, aided by the nation's third supplementary fiscal budget, difficult conditions have been made worse by deteriorating economic prospects caused by the European debt crisis; adverse pressure on Japan's exports because of the unprecedented strength of the yen; and negative effects from widespread flooding in Thailand.
Our steel-industry rivals are actively adapting to the evolving market through measures such as the planned mergers of Nippon Steel and Sumitomo Metal Industries, and Nisshin Steel and Nippon Metal Industry. JFE has decided to integrate four electric furnace operators in April, and we have begun preparations to acquire the outstanding shares of JFE Shoji Trade, which will become a wholly owned subsidiary of JFE Holdings.
2012 will mark the JFE Group's 10th Anniversary and the start of the fourth medium-term business plan from spring. We will be focusing not only on improving profitability, no matter how challenging the circumstances, but also on laying an unshakeable foundation for sustainable growth over the next 10 years.
The 10-year vision I have for JFE Steel is for our company to become one of the world's leading global steel suppliers, a company of which we can be truly proud. Realizing this vision requires effective establishment of the JFE Steel brand and a strong financial base on which to build.
So, what will be the key challenges for us in 2012?
The first challenge will be to further elevate our standing as a global steel supplier. Simply put, we must outperform the competition in the supply of steel to customers worldwide. This goal means we must focus on key factors - quality and service - interacting closely with customers to understand their exact requirements, and then delivering the "right" products at the "right" time. We also need to focus on developing innovative products and processes from the perspective of what will be needed 10 years from now. Furthermore, as our customers continue to globalize their own operations, we too must accelerate our own initiatives for improved profitability and an expanded presence overseas, particularly in Asia, while continuing to secure core customer demand in Japan.
Our second challenge is to underpin our manufacturing business by continuing to be a frontrunner in technology development. I call on everyone in R&D and production to leverage our top-level, world-class operational technologies, and to work as a team to steadily strengthen productivity and cost-competitiveness. It is crucial that we rapidly adjust to demand trends and ensure that our production operations remain flexible and efficient. We also need to keep abreast of sales and production trends to accurately forecast developments, and then respond proactively.
Our third challenge is to maximize group capabilities. Demand in Japan inevitably will decrease over the medium to long term, so we need harness our collective strengths more than ever before to grow both JFE Steel and the JFE Group. I call on all the companies under the JFE Holdings umbrella to strengthen mutual cooperation to enable all of us to move ahead with globalization and achieve outcomes more efficiently.
The fourth and final challenge is the need, as individual employees, to thoroughly review our present tasks. Ask yourself how you can truly generate value for the company and then concentrate on ways to do this in your own job. Every employee must work proactively, with a clear sense of purpose. For our group, attracting talented young people and developing their skills are as important as ensuring that the knowledge built up by more experienced employees is effectively transferred to new generations.
The seriousness of the ongoing global economic upheaval should not be underestimated. However calm, clear thinking is especially important in a crisis. Accordingly, I wish to stress to everyone, whether you're in sales, technology development or production, to return to the basics and tackle each challenge with a fresh, forward-looking perspective.
I would like to take some time to address safety because nothing is more important than the safety and health of our employees, and those of our group companies and outside contractors.
Although our safety record has improved steadily since 2007, major accidents last summer led to the loss of two lives, including an employee of our business partner. We feel profound sorrow over the incidents, but we must also be compelled to give deep, serious thought to what happened and to what measures are necessary to address any shortcomings, and prevent any recurrence.
Each workplace needs to strengthen its operations each day by applying the three basic principles: communicate more, stop operations whenever safety is compromised, and swiftly allocate necessary staff and resources to ensure a safe environment.
In addition, those with special responsibility for safety in the various workplaces must take the initiative to ensure discipline and organization-wide compliance. This directive not only applies to the safety of our own employees but equally to those from group companies and outside contractors when they undertake maintenance, repairs or construction at our facilities. Make absolutely sure you are also providing these personnel with a safe work environment. At the same time, I encourage all visiting partner companies to personally double-check the work environments we provide and start working only when you are totally convinced that the necessary safety precautions are in place.
In addition to ensuring our employees abide by our safety measures in 2012, we intend to take steps to resolve each and every safety issue we identify not only to eliminate major accidents but also to create more vibrant, accident-free working environments.
In closing, I would like to address our labor union representatives.
Dealing with the issues we face in today's severe and uncertain business environment requires total unity and commitment. It is crucial that our entire company acts together, as one, so that we can move swiftly and boldly. I seek your understanding and cooperation as we work together to create opportunities out of the challenges.
May I offer my best wishes to you, and to your families, for success, good health and happiness throughout 2012!