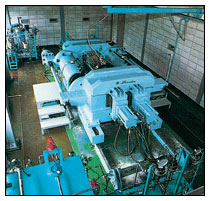 Sour services
JFE-80S, -85S, -90S, -95S and -110S for continuous operating temperature above 149 °F (65 °C)
Special sour services
OCTG for sour wells must above all have improved resistance to sulfide stress cracking (SSC) in fluids containing H
2
S. Intensive research has led to a modified Cr-Mo-Nb steel for OCTG for sour wells. This steel features both excellent hardenability and good temper resistance. Consequently, fine and homogeneous tempered martensite with lower HRC25 for 95 ksi grade is obtained after tempering at higher tempering temperature. As a result, OCTG of these grades possess excellent resistance to SSC for its strength grades.
These OCTG are subjected to more stringent quality control.
SSC-resistant steel of these grades thoroughly tested by major oil companies enjoys high ratings and is now widely used for sour gas and oil wells all over the world.