Greetings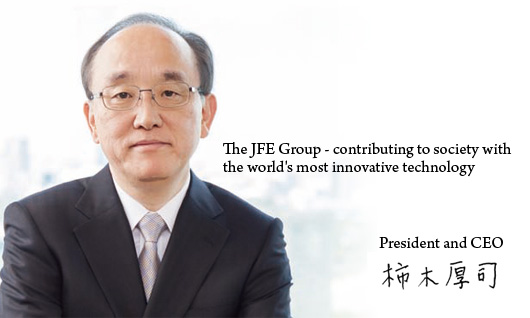 Message from the CEO
It is a great pleasure to extend my warmest greetings to you as the CEO of JFE Steel Corporation.
Contributing to society with steel
The timeless mission of JFE Steel is to contribute to society with the world's most innovative technology, developing unique and highly functional steel products. Steel has been a key, basic material for human civilization over the centuries and it will surely remain indispensable far into the future. As a steelmaker we recognize our shared responsibility to address pressing needs in modern society, including safety and environmental protection, by developing world-leading technologies and products.
Delivering steel worldwide
Many countries are using great amounts of steel to support their growing economies and social development. To supply our global customers on a timely basis, we are expanding JFE Steel's production bases and sales networks both in Japan and overseas. We aim to build on our long-term, mutually beneficial relationships with customers by reliably supplying them with products that we proudly back with advanced technologies and services tailored for each customer.
Working closely with stakeholders
For some people, 'old' or 'slow to change' might still be part of the image of a steel company . At JFE Steel we value the youth and vibrancy that come with generational shifts in our workforce together with the wealth of accumulated knowledge and invaluable skill built up over decades of experience in our industry. The source of our technological strength has always been the talent of our people, so our ability to innovate and develop high quality steel seamlessly into the future depends on us carefully nurturing younger employees and effectively transferring necessary skills from one generation to the next.
Over the next decade, we pledge to work as one to fulfill the JFE Steel mission and to build strong, dynamic relationships with customers, the communities we are part of, and all our stakeholders .
Koji Kakigi
President and CEO