JFE Steel Original Coaster & Suntory Whisky "The Chita"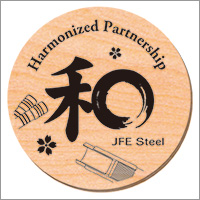 Standing in the south of Aichi Prefecture, "Chita" has developed from old into a place rich with leading-edge engineering.
JFE Steel is proud of its high-quality oil well casings and pipelines: manufactured in our Chita site, exported all over the world.
But there is another symbolic product of this craft-town "Chita."
Suntory whisky "The Chita," released on September 1.
A superb item with an elegant aroma distilled in Suntory Spirits' Chita distillery.



Steel pipes and whisky – worlds apart.
Yet things we have in common are the high level of passion and skill required to earnestly create products and the tradition skills of creation carefully getting passed down, which can be found only in "Chita".
At JFE Steel with the thought that we want you to know more about "Chita,"
together with Suntory whisky "The Chita,"
we prepared an original coaster to suit an exquisite drink.
Please learn a little about and get a taste for "Chita."

* Stock is limited, please understand if it runs out.