Location
Chita Works is part of the Chukyo Industrial Zone and faces Kinuura Bay, which has good access to the world's sea lanes. Also Central Japan International Airport, which is located just 30min. Drive from chita Works,opened in February 2005. Located almost in the center of the Kinuura Coastal Industrial Zone, Chita takes advantage of excellent site conditions as a base for supplying tubular products to users around the world while coexisting with nature. The site also has outstanding access to other related industries, beginning with the company's East Works and West Works which supply materials for pipemaking. In short, Chita enjoys an excellent location for growing hand in hand with companies around the world.

Address
1,Kawasakicho 1-chome,Handa,Aichi 475-8611, Japan
Phone :(81)569-24-2432 Fax : (81)569-24-2032
How to reach us
By Plane
Take a taxi from Central Japan International Airport to Chita Works.(30minutes)
By Train
JR Line :
Take a Tokaido Line train towards Toyohashi from Nagoya station and stop at Obu station. Change trains to Taketoyo Line. Stop at Higashi-Narawa station, just in front of Chita Works. -Total time expected is 1 Hour
Meitetsu Line :
Take a Utsumi-kowa Line train from Shin-Nagoya station and stop at Chita-Handa station. Take a taxi from Chita-Handa to Chita Works.( 10 Minutes) -Total time expected is 50 minutes
By Car
Take Chita Hanto Highway from Nagoya, off at Handa IC, 10minutes to Chita Works.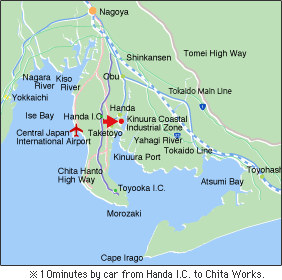 An Integrated Production System and Ideal Layout
The group of shops that make up Chita Works was laid out on a 1.8 million m2 site to create the ideal pipe production system. All aspects of the production system, from unification of research and development to concentration of technology and foolproof quality control are realized by taking full advantage of the features of the location. This modern plant is a tangible symbol of Chita's confidence that it can meet demand for steel pipes of all types and sizes as one of the world's leading pipemaking works.